Festo's ExoHand is a robotic glove designed to function as an extension of an individual's hand to provide strength and endurance. It is customized to fit the user by selective laser sintering via additive manufacturing from a 3D scan of the user's hand, and it operates independently as an exoskeleton on a human hand or remotely on a robotic arm.
When worn by a human, the fingers can be actively moved and their strength amplified, as the operator's hand movements are transmitted to the robotic hand in real time. The polyamide exoskeleton supports the human hand and mimics its movements, while giving them additional force. With force feedback -- an aspect of haptics, or tactile feedback technology -- the human operator feels what the robot hand grasps and can safely grasp and manipulate objects from a distance.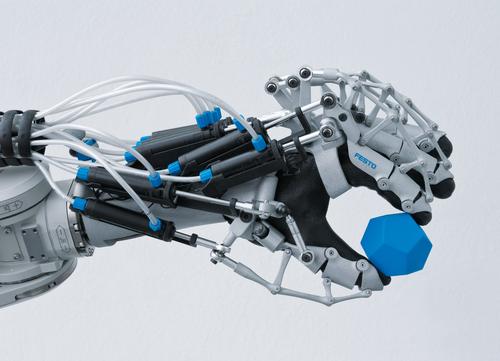 Eight double-acting pneumatic actuators, Festo's own DFK-10 cylinders, attached to the exoskeleton, move the fingers so that they can be opened and closed. Just like a human hand, the index finger can be pivoted to the user's right or left, and the thumb can be rotated toward the palm. Servo-pneumatic open-loop and closed-loop control algorithms are implemented on a CoDeSys-compliant controller, allowing precise orientation of each individual finger joint. This lets large amounts of force be transmitted precisely in a small space, which minimizes the risk of injury. Each hand has eight linear potentiometers as displacement sensors, and 16 pressure sensors to track the forces, angles, and positions of the fingers.
Festo, an automation technology supplier, already produces the hand's components which means it's possible that this could help keep costs down. The hand is aimed at operators in industrial assembly to give them additional force for monotonous, strenuous, and repetitive motions. It can be used for remotely manipulating a similarly equipped robotic hand, made of silicone, to grasp objects in hazardous environments.
The robotic hand can also be used with a brain-computer interface to create a closed feedback loop for helping stroke patients who are showing the first signs of paralysis. An EEG signal indicates the patient's desire to open or close his or her hand, and the ExoHand responds by performing the movement. The result is training patients to regenerate damaged connections between brain and hand. Festo is working on this application with the Centre for Integrative Neuroscience at the University Hospital Tuebingen.
Festo's other research projects include the PowerGripper, for developing new gripper systems modeled on the kinematics of a bird's beak; the NanoForceGripper, which can grip smooth-surfaced fragile objects such as drinking glasses with very little energy expended by mimicking a gecko's sucker-like elements; and the Bionic Handling Assistant, a flexible gripping arm modeled after an elephant's trunk.
(Watch an animation of the ExoHand's operation
here
, and a video
here
.)
Related posts: