Last week, we told you about college students demonstrating the grappling hooks they designed at the request of the US Air Force. The design was inspired by hooks used in the Batman films. Now we learn that Army soldiers were inspired by another film to design a backpack-like ammunition-feeding system.
After an intense firefight last year in Afghanistan, Iowa National Guard members discussed how soldiers struggled to carry ammunition in difficult terrain. They joked that it would be handy if soldiers could carry an ammunition box on their backs, like Jesse Ventura did in the film Predator. And so, an idea was hatched by an army staff sergeant, Vincent Winkowski.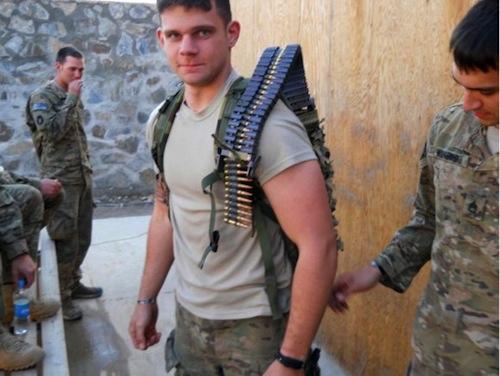 The weapon that inspired him to build the ammunition carrier was the MK 48 7.62-mm machine gun. "The ammunition sacks that came with it made it too cumbersome and heavy to carry over long, dismounted patrols and especially when climbing mountains," Winkowski said in an article published on the Army Website.
Winkowski designed a new carrier by taking an old frame from a so-called ALICE (all-purpose lightweight individual carrying equipment) pack, welding two ammunition cans together, and strapping them to the frame. He also added a modular, lightweight pouch, or MOLLIE (modular, lightweight load-carrying equipment) pack, to the carrier, so soldiers could put other equipment in it. To deliver ammunition through the pack to the weapons, Winkowski took a piece of wood and fashioned a way to connect it to the feed chute assembly from an Army vehicle Common Remote Operating Weapons Station, or CROWS.
After members of the division tested the ammunition carrier in the field, the Army's Natick Soldier Research, Development, and Engineering Center (NSRDEC) saw photos of the prototype and took over the project. It made some modifications to make the carrier more mass production-friendly, switching out the original ALICE frame for a MOLLIE frame and replacing the inside of the ammunition compartment with polycarbonate plastic. The new design still employs the 27-inch feed chute designed for the CROWS, though the Army says researchers are working to design one that costs less than the $1,710 chute.
The new prototype -- called the High-Capacity Ammunition Carriage System but dubbed "Ironman," after the nickname of the Iowa National Guard whose members created it -- was completed 48 days after researchers saw the original design.
Dave Roy, a current operations analyst at the NSRDEC military deputy's office, said in the article that Army researchers hope to get the carrier into the formal product acquisition process this year to get the new capability into the hands of as many soldiers as possible. "If that material solution fills a gap, you don't just want to have one of them, or you don't want to just have the designs on a cocktail napkin," he said. "You want to have something to fill that capability gap very quickly."
Related posts: