The US Army has unveiled a concept combat vehicle that's been designed not only for fuel efficiency, but also to act as a generator in remote locations like Afghanistan. The Army demonstrated the Fuel Efficient ground vehicle Demonstrator (Bravo version) -- or FED Bravo, as it's been dubbed -- at the Society of Automotive Engineers 2012 World Congress last week in Detroit.
Last fall, the Army demonstrated the FED Alpha, a companion vehicle to the FED Bravo that shared its fuel efficiency but could not generate and export power when plugged into a microgrid. The power generated by the FED Bravo can be used as alternative power in the field to promote energy efficiency and allow soldiers to avoid local electricity sources.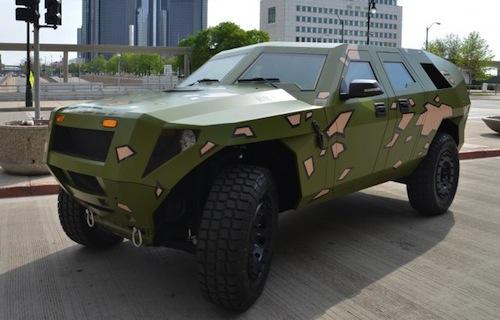 With oil prices high and environmental awareness a global concern, fuel efficiency appears to be the way forward for both military and aerospace vehicle design. Boeing, for example, has made fuel efficiency the No. 1 design priority for its next-generation line of 737s, the 737 MAX. (See: Boeing's 737 Max Targets Fuel Efficiency.)
At the core of the Army's concept vehicle is a Ford 4.4-liter, twin turbocharged, 268-horsepower V8 diesel engine. Different elements of the FED Bravo have been custom designed to burn less fuel. Specialized features include a combination starter/generator that shuts off the engine when it normally would be idling and restarts it when the driver presses the accelerator again. This improves fuel economy and reduces emissions, according to the Army.
The vehicle also runs partly on an advanced lithium-ion battery designed for high energy and power density. It features a six-speed auto transmission. A front axle powered by an electric motor also saves on fuel, as does a rear-wheel drive linked to a hybrid fuel-powered and electric system. Another fuel efficiency feature is a hydraulic brake system that eliminates the need for a second pump. The system is integrated with the steering system to provide it hydraulic pressure.
Other features of the vehicle are carbon ceramic brake rotors specially coated for durability, low-drag aluminum brake calipers, and an armored cab and V-shaped hull for blast protection, the military said.
The Army designed the concept vehicle with a team of 18 students in the automotive design program at Detroit's College for Creative Studies. The Department of Defense paid for the development, which was handled by engineers at the Army's Tank Automotive Research, Development, and Engineering Center and World Technical Services.
Related posts: