There's been a rash of tiny cameras cropping up in recent months. First, the one-inch cube CogniVue-embedded smart camera, then the Imec hyperspectral system-on-chip camera, and now there's one that's even smaller than the Cognivue cube and can see in short-wave infrared (SWIR) spectra.
At the SPIE Defense, Security, and Sensing (DSS) 2012 exhibition last week (April 23 to 27), SWIR imaging pioneer Goodrich ISR Systems introduced what it's claiming is the world's smallest, lightest, and lowest-power-consuming SWIR camera, the GA640C-15A, with a volume of less than one cubic inch.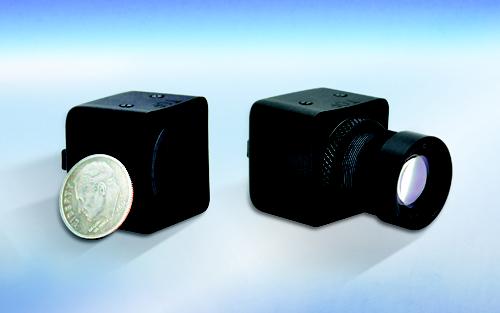 In the past, SWIR cameras were large and consumed a lot of power, since they were based on older mercury cadmium telluride imaging techniques. The Sensors Unlimited division of Goodrich ISR Systems has focused on improving them in several ways, including continuing reductions in size. Two years ago, for instance, the company introduced its SU1024LDH2 digital line-scan SWIR camera, with a full SWIR operating bandwidth ranging from 800nm to 1,700nm, a 25-micron pixel pitch, and aperture heights of 25 or 500 microns. It measures three inches by three inches by four inches, making it small enough to mount on spectrometers.
Goodrich ISR Systems has achieved much of its results by figuring out how to design and produce near infrared (NIR) and SWIR cameras and systems with advanced indium gallium arsenide (InGaAs) imaging technology. The company's SWIR linescan cameras were some of the first to be used in machine vision and inspection of silicon photovoltaic solar wafers and cells, looking for voids and cracks in design or failure-analysis labs, as well as checking cells and panels during manufacturing for incomplete current conduction and short circuits. In military applications, SWIR and NIR imaging is especially useful for intelligence, surveillance, and reconnaissance operations, as well as night vision systems and missile tracking.
The new GA640C-15A camera is small enough, and light enough at 26g without its lens, to be integrated into a handheld, helmet-mounted, or weapon-mounted surveillance devices, as well as unmanned aircraft, and ground-based or marine-based imaging systems. Its power consumption is only 1.5 W.
The camera has a 15-micron pitch and pixel resolution of 640 x 512. It also has a Camera Link digital output, an interesting interface choice in a military environment, since Camera Link is the machine vision-specific interface originally designed for the factory floor. This interface provides plug-and play, 12-bit imagery for viewing, digital processing, and/or transmitting images.
The uncooled SWIR detector images at real-time video rates of 30Hz, in light ranges from daylight to low light, and through smoke, haze, and fog. It operates without temperature stabilization using non-uniformity corrections that are parameterized over temperatures. It also provides onboard automatic gain control for hands-free operation.
An option extends the spectral response to include the NIR range from 700nm to 1,700nm. The camera operates in an extended temperature range from -35C to 71C.
Related posts: