If you've always dreamed of hanging with the pit crew at Indy, your opportunity has arrived. Littelfuse Inc. is sponsoring the Speed2Design contest that enables its winners to attend the race, visit the pits, and talk engineer-to-engineer with crew members.
"This gives you the opportunity to be next to the car, with the mechanics, and with the engineers," Pete Pytlik, field application engineer for Littelfuse, told Design News. "You can see all the behind-the-scenes action that takes place in the pits, you get to watch them change the tires, and you get to see the car roll out to the track."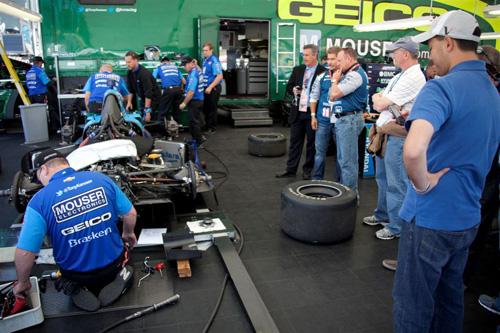 Known as TechTalk, the experience gives winners access to the garage of KV Racing Technology and Indy Racing League champion driver, Tony Kanaan. It's part of a larger weekend program called Speed2Design, which will include a travel voucher, hotel accommodations, race ticket, and access to hospitality events.
The Speed2Design promotion is connected to five upcoming races on the 2012 Indy Racing League series, including Indianapolis (May 27); Forth Worth (June 9); Qingdao, China (August 19); Sonoma, Calif. (Aug. 26); and Fontana (September 15). Littelfuse will randomly select five participants who enter the promotion to attend each Speed2Design event.
Readers can enter the contest at the Speed2Design. Entry requirements include filling out a registration form and uploading a 90-second video, explaining why you're passionate about racing and engineering. The company is partnering on the race events with Mouser Electronics, a primary sponsor of the racing team.
Littelfuse, a maker of circuit protection devices, says that the TechTalk experience is the highlight of the Indy race package because it provides engineers with a close-up view of Indy vehicle components that they would never otherwise get. "Normally, when you attend an Indy race, you don't get to see the vehicles up close," Pytlick said. "All you see is the car, the body. Here, you get to see all the mechanicals and electricals."
While engines and carbon fiber composites steal many of the headlines, the level of electronics in today's Indy vehicles is equally impressive, Pytlik said. Today's Indy vehicles employ as many as 200 data channels to monitor sensors that examine fuel pressure, oil pressure, driveshaft speed, exhaust gas temperature, and dozens of other parameters. He added that race teams typically employ multiple networked laptop computers in the garage, enabling them to communicate wirelessly with the sensors in the vehicles as they race around the track.
"It's amazing to see how much electronic equipment is used in today's Indy races," Pytlik said. The biggest thrill, however, is the opportunity for winners to be in the garage until shortly before "the greatest spectacle in racing" begins, he said. "You're right there," he told Design News. "You're going to be shoulder-to-shoulder with these guys."
Where to Enter:
Click on the link to access the page with the entry form for the Speed2Design contest.
Related posts: