The Navy has unveiled the design of its DDG 1002 Zumwalt Class Warship, which will have the capability to shoot energy beams and electromagnetic weapons, and also be the biggest and most automated ship the military arm has ever deployed. General Dynamics' Bath Iron Works is developing it, the first of a new class the Navy expects to roll out sometime in fiscal 2018, which begins Oct. 1, 2017.
The warship includes a number of design features that make it the most powerful and technologically advanced of the Navy's fleet to date, according to Bath Iron Works.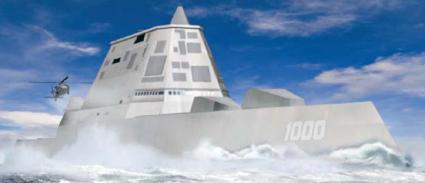 The so-called "quiet tumblehome hull form" and a minimal radar signature make the ship especially stealthy, and an enhanced X/SPY X-band radar provides it with advanced detection and interception capabilities even when the ship is close to shore and there is a lot of radar traffic, according to the company. The ship also is more powerful than vessels the Navy uses now, which prepares it for the next-generation of naval weapons that are currently in development, according to Bath Iron Works. Those include futuristic weapons that shoot energy beams and an electromagnetic railgun.
Another key feature of the Zumwalt is its high level of automation, which, although it will be the biggest and most powerful of the Navy's fleet, allows it to employ less manpower than current vessels. New high-tech features of the ship include electric drive/integrated power systems, automated ship control and damage control systems, and a totally integrated, ship-wide command and control system, according to Bath Iron Works.
The company began production on the Zumwalt in early 2011. Production also is underway on the second and third ships in the class, the Michael Monsoor, or DDG 1001, and the DDG 1002, which is as yet unnamed. The Navy plans to use the design of the Zumwalt -- in particular its automated systems capabilities -- as a reference point for future warships, according to Bath Iron Works.
Related posts: