Automation & Motion Control
It may sound unbelievable, but some tools that physicians use to perform invasive surgery were originally developed in the 1930s and have gone through minimal updating since. Most often, these tools have been efficient enough to do the job, even if patients took a long time to heal. This is especially true when a surgeon has to enter the chest cavity for heart or lung operations. To date, there are two primary methods used to open a space large enough for a doctor to work inside the chest: a thoracotomy or a sternotomy.
The thoracotomy is where an incision is made between two ribs to gain access. For a sternotomy, the surgeon saws through the sternum and then spreads it apart. In both cases, the surgeon pries apart the ribs or sternum using a hand-cranked, stepping mechanical jack called a thoracic retractor. Large forces are needed to spread the ribs. In fact, the Physcient team discovered that the forces necessary to separate the ribs are roughly equal to the weight of the person being operated on, which means that using a thoracic retractor can result in broken bones, crushed nerves, wrenched joints, and torn ligaments. All of these factors offer adverse post-surgical effects that can be ongoing.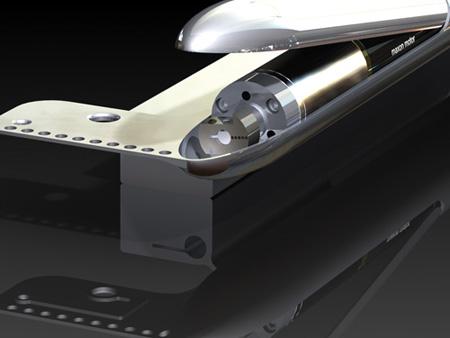 Physcient has developed technologies that are expected to greatly reduce the damage of thoracic retraction. "Two of the concerns we ran into," said Chuck Pell, cofounder (with Hugh Crenshaw) of Physcient, "were that we had to maintain the same footprint as other thoracic retractors being used in the operating room today, plus we had to be able to sterilize the tool repeatedly, to be used for literally hundreds of cycles." The company's Assuage Smart Retractor was designed to apply technology to solve a longstanding problem without changing surgeons' procedures.
According to Pell: "We both (he and Crenshaw) studied biomechanics, and it is that understanding of how creatures move that we use to translate into technology. We recently turned that knowledge to surgical tools, and are finding it very interesting. Many of the tools used in surgery today were invented prior to biomechanics becoming a mature science."




2
Some cars are more reliable than others, but even the vehicles at the bottom of this year's Consumer Reports reliability survey are vastly better than those of 20 years ago in the key areas of powertrain and hardware, experts said this week.
While risk management sounds like one activity, in order to be conducted effectively, it must be broken down into three sub-components: risk assessment, risk monitoring, and response planning.

2
Many of the materials in this slideshow are resins or elastomers, plus reinforced materials, styrenics, and PLA masterbatches. Applications range from automotive and aerospace to industrial, consumer electronics and wearables, consumer goods, medical and healthcare, as well as sporting goods, and materials for protecting food and beverages.
In a speech at China's National People's Congress in Beijing this month, Premier Li Keqiang laid out plans to revamp the country's manufacturing infrastructure with advanced technology.
While many larger companies are still reluctant to rely on wireless networks to transmit important information in industrial settings, there is an increasing acceptance rate of the newer, more robust wireless options that are now available.

Focus on Fundamentals consists of 45-minute on-line classes that cover a host of technologies. You learn without leaving the comfort of your desk. All classes are taught by subject-matter experts and all are archived. So if you can't attend live, attend at your convenience.