It may sound unbelievable, but some tools that physicians use to perform invasive surgery were originally developed in the 1930s and have gone through minimal updating since. Most often, these tools have been efficient enough to do the job, even if patients took a long time to heal. This is especially true when a surgeon has to enter the chest cavity for heart or lung operations. To date, there are two primary methods used to open a space large enough for a doctor to work inside the chest: a thoracotomy or a sternotomy.
The thoracotomy is where an incision is made between two ribs to gain access. For a sternotomy, the surgeon saws through the sternum and then spreads it apart. In both cases, the surgeon pries apart the ribs or sternum using a hand-cranked, stepping mechanical jack called a thoracic retractor. Large forces are needed to spread the ribs. In fact, the Physcient team discovered that the forces necessary to separate the ribs are roughly equal to the weight of the person being operated on, which means that using a thoracic retractor can result in broken bones, crushed nerves, wrenched joints, and torn ligaments. All of these factors offer adverse post-surgical effects that can be ongoing.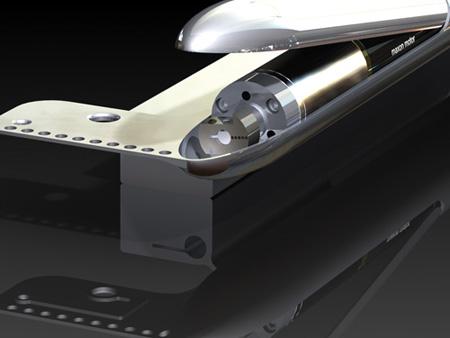 Physcient has developed technologies that are expected to greatly reduce the damage of thoracic retraction. "Two of the concerns we ran into," said Chuck Pell, cofounder (with Hugh Crenshaw) of Physcient, "were that we had to maintain the same footprint as other thoracic retractors being used in the operating room today, plus we had to be able to sterilize the tool repeatedly, to be used for literally hundreds of cycles." The company's Assuage Smart Retractor was designed to apply technology to solve a longstanding problem without changing surgeons' procedures.
According to Pell: "We both (he and Crenshaw) studied biomechanics, and it is that understanding of how creatures move that we use to translate into technology. We recently turned that knowledge to surgical tools, and are finding it very interesting. Many of the tools used in surgery today were invented prior to biomechanics becoming a mature science."




2
Nissan Motor Co. is taking the electric vehicle into new territory, rolling out an exotic-looking three-seat concept car that combines sustainability with race car-like performance.

1
3D visualization is helping us express information in a way that's more informative and easier to decipher.

0
A new service lets engineers and orthopedic surgeons design and 3D print highly accurate, patient-specific, orthopedic medical implants made of metal -- without owning a 3D printer. Using free, downloadable software, users can import ASCII and binary .STL files, design the implant, and send an encrypted design file to a third-party manufacturer.

2
Google is developing robots for manufacturing, assembly, and warehouse tasks.

10
When Dick Neubert discovered that his fireplace's heatilators lost heat when not in use, he created a gadget to rectify the situation.


LATEST ARCHIVED BROADCAST
For industrial control applications, or even a simple assembly line, that machine can go almost 24/7 without a break. But what happens when the task is a little more complex? That's where the "smart" machine would come in. The smart machine is one that has some simple (or complex in some cases) processing capability to be able to adapt to changing conditions. Such machines are suited for a host of applications, including automotive, aerospace, defense, medical, computers and electronics, telecommunications, consumer goods, and so on. This discussion will examine what's possible with smart machines, and what tradeoffs need to be made to implement such a solution.



Datasheets.com Parts Search
185 million searchable parts
(please enter a part number or hit search to begin)