Stronger than expected shockwaves on the outer shell of a hypersonic vehicle designed by the Defense Advanced Research Projects Agency (DARPA) caused it to crash during a test flight last year, an independent engineering review board (ERB) has concluded.
DARPA's Hypersonic Technology Vehicle (HTV-2) successfully flew nearly 13,000mph for about three minutes in its second test flight on August 11 before its safety system sent it crashing into the Pacific Ocean nine minutes into the flight. Shockwaves, 100 times more than the vehicle was designed to withstand, peeled off portions of the aircraft's thermal shell, causing the early flight termination, the ERB said after a seven-month analysis of data collected from the flight.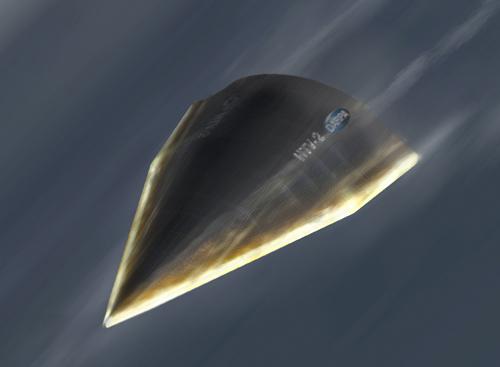 Official findings of the ERB said that the "most probable cause of the HTV-2 Flight 2 premature flight termination was unexpected aeroshell degradation, creating multiple upsets of increasing severity that ultimately activated the Flight Safety System," according to DARPA. The HTV-2 is an unmanned, rocket-launched, maneuverable aircraft capable of going Mach 20, or about 13,000mph. Flying at such a speed would allow an aircraft to travel from New York to Los Angeles in less than 12 minutes.
The agency put a positive spin on feedback gleaned from the investigation, saying the fact that the flight was able to recover from initial shockwaves before the safety system triggered its Pacific plunge showed that HTV-2's engineers learned valuable design lessons from its first flight, which also ended sooner than expected.




1
Contributing editor Cabe Atwell developed a Raspberry Pi and Arduino-based remote network fish tank control for his goldfish, Goldie Fishwater.

5
Are they robots or androids? We're not exactly sure. Each talking, gesturing Geminoid looks exactly like a real individual, starting with their creator, professor Hiroshi Ishiguro of Osaka University in Japan.

1
Hybrid vehicle engineers may now have a way to do hardware-in-the-loop simulation testing, instead of physical dynamometer testing, on the electric motors that propel their cars.

8
NASA is developing Project Morpheus, a vehicle that can lift off and set itself down on planetary surfaces.

19
Nissan Motor Co. is taking the electric vehicle into new territory, rolling out an exotic-looking three-seat concept car that combines sustainability with race car-like performance.


LATEST ARCHIVED BROADCAST
For industrial control applications, or even a simple assembly line, that machine can go almost 24/7 without a break. But what happens when the task is a little more complex? That's where the "smart" machine would come in. The smart machine is one that has some simple (or complex in some cases) processing capability to be able to adapt to changing conditions. Such machines are suited for a host of applications, including automotive, aerospace, defense, medical, computers and electronics, telecommunications, consumer goods, and so on. This discussion will examine what's possible with smart machines, and what tradeoffs need to be made to implement such a solution.



Datasheets.com Parts Search
185 million searchable parts
(please enter a part number or hit search to begin)