Stronger than expected shockwaves on the outer shell of a hypersonic vehicle designed by the Defense Advanced Research Projects Agency (DARPA) caused it to crash during a test flight last year, an independent engineering review board (ERB) has concluded.
DARPA's Hypersonic Technology Vehicle (HTV-2) successfully flew nearly 13,000mph for about three minutes in its second test flight on August 11 before its safety system sent it crashing into the Pacific Ocean nine minutes into the flight. Shockwaves, 100 times more than the vehicle was designed to withstand, peeled off portions of the aircraft's thermal shell, causing the early flight termination, the ERB said after a seven-month analysis of data collected from the flight.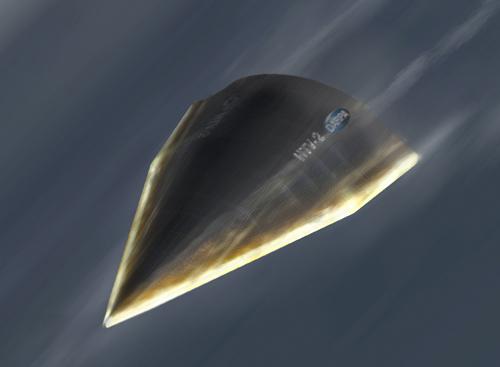 Official findings of the ERB said that the "most probable cause of the HTV-2 Flight 2 premature flight termination was unexpected aeroshell degradation, creating multiple upsets of increasing severity that ultimately activated the Flight Safety System," according to DARPA. The HTV-2 is an unmanned, rocket-launched, maneuverable aircraft capable of going Mach 20, or about 13,000mph. Flying at such a speed would allow an aircraft to travel from New York to Los Angeles in less than 12 minutes.
The agency put a positive spin on feedback gleaned from the investigation, saying the fact that the flight was able to recover from initial shockwaves before the safety system triggered its Pacific plunge showed that HTV-2's engineers learned valuable design lessons from its first flight, which also ended sooner than expected.




1
We see Gadget Freak projects from all walks of life, but many of our most imaginative gadgets are created by budding engineers.

2
By experimenting with the photovoltaic reaction in solar cells, researchers at MIT have made a breakthrough in energy efficiency that significantly pushes the boundaries of current commercial cells on the market.

0
Advanced Micro Devices' latest release brings a cloud-based graphics boost, along with unparalleled performance, to the workstation.

2
In a world that's going green, industrial operations have a problem: Their processes involve materials that are potentially toxic, flammable, corrosive, or reactive. If improperly managed, this can precipitate dangerous health and environmental consequences.

9
With LEDs dropping in price virtually every year, automakers have begun employing them, not only on luxury vehicles, but on entry-level models, as well.


A quick look into the merger of two powerhouse 3D printing OEMs and the new leader in rapid prototyping solutions, Stratasys. The industrial revolution is now led by 3D printing and engineers are given the opportunity to fully maximize their design capabilities, reduce their time-to-market and functionally test prototypes cheaper, faster and easier. Bruce Bradshaw, Director of Marketing in North America, will explore the large product offering and variety of materials that will help CAD designers articulate their product design with actual, physical prototypes. This broadcast will dive deep into technical information including application specific stories from real world customers and their experiences with 3D printing. 3D Printing is




Datasheets.com Parts Search
185 million searchable parts
(please enter a part number or hit search to begin)