Boeing collaborated with All Nippon Airways (ANA) to fly a 787 Dreamliner using biofuel across the Pacific Ocean on Tuesday. The flight from Boeing's Delivery Center in Everett, Wash., to Tokyo Haneda Airport brings the airline industry a step closer to environmentally friendly and fuel-efficient long-haul flights.
The plane used both biofuel (made mainly of used cooking oil) and jet fuel to make the journey.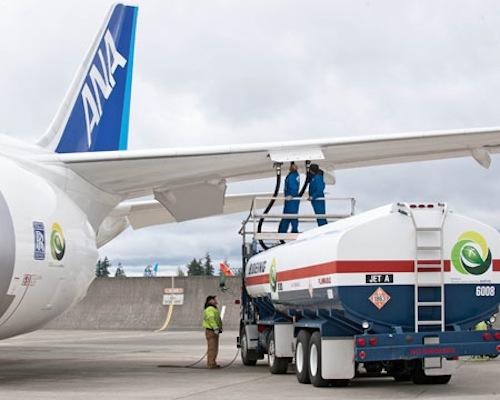 Boeing said the use of biofuel and the overall design of the Dreamliner (which has been optimized for fuel efficiency) lowered CO2 emissions 30 percent on the journey. The biofuel contributed about 10 percent of that reduction, while the overall design efficiencies built into the jet contributed about 20 percent, the company said.
The airline industry is in the nascent stages of exploring the use of biofuel to support green-energy goals and cut fuel costs. So far, many of the biofuel flights by carriers like Alaska Airlines and Continental Airlines have been short.
Osamu Shinobe, senior executive vice president at ANA, said in a press release that the Dreamliner flight showed the viability of using alternative fuels even on longer journeys. "Our historic flight using sustainable biofuels across the Pacific Ocean highlights how innovative technology can be used to support our industry's goal of carbon-neutral growth beyond 2020."
Frys then off to Japan

naperlou
4/20/2012 9:42:41 AM
Elizabeth, that is a big step. First you make frys and next you fly across an ocean.

One thing that was not clear is what percentage the biofuel was. You mention using both jet fuel and biofuel. Is that a mix, or did they alternate the use?


Bluer Skies

NadineJ
4/20/2012 11:15:34 AM
One thing many don't talk about is that immedaiely after 9/11, on the east coast, the skies were as blue as in the tropics, by some accounts, because air traffic was grounded. Air quality exponentially increased.

It's good to see a few steps toward keeping the blue skies while keeping people connected. Increased air travel has been a benefited the world in many ways.

naperlou's question is great. The article says that only 10% of the 30% reduction can be attributed to biofuel. How could that be changed to decrease emmissions even more?


These are good questions from Nadine and Naperlou, but whatever the answers, it's great to see forward movement on biofuels. An experiment here and an experiment there and pretty soon you have an industry.


A success, but at what cost? It is far more expensive to use these reconstituted fuels, and the American taxpayer and their grandchildren are already carrying a heavy, heavy burden. I am glad there is a way to do these things, but really? As an engineer it is always great to come up with something new, but you have to weigh the costs. Costs are important- even in the government.

So, we fly through the air smelling like a hamburger, subsidized by the government, with airlines that can barely stay afloat. Hummmm...


Good question about cost. Also, I wonder how serious they are about this. The story discusses "carbon-neutral growth by 2020," but I do wonder if that's one of those goals that will get "re-visited" in a few years.


I guess you have to know the people making the demand to be "carbon neutral." They are usually bureaucrats justifying their existence making absurd claims about non-existent problems. Global warming is another unsubstantiated and foolish claim that ignores reality- solar flares.

Yes, the goalpost will be moved in the direction of the highest campaign contributor. As always...


You've go to be kidding

jeffbiss
4/20/2012 8:56:29 PM
It is obvious that you haven't read one scientific article about global warming otherwise you'd not have mentioned that solar flare nonsense. Understand this, CO2 is a forcing greenhouse gas and people have been increasing its concetration through the release of CO2 in the burning of fossil fuels. This CO2 was not part of the natural cycles as long since it had been sequestered below the earth's surface.

Global warming is real and our release of CO2 from previously sequestered sources exacerbates the consequences of forcing greenhouse gases in the atmosphere.


Oh boy! Two of you pushed my buttons!

First about the population thing. It never has been about population. It is about government. The Lord said, "The earth is full and ready for harvest." Oppressive governments (often supported and upheld by the United States) are the cause of famine, hunger, and deprivation. They will not let the people succeed for their own selfish reasons. We engineers have solved many of the world's problems, but third-world countries will not allow these advances in water production and purification, agriculture, electrical production, and free-market economics have a chance. Socialist economic planning fails every time. It isn't people that is the problem at all. We need more people to make the world go round economically, socially, and politically.

About "global warming." Yes, I have read the propaganda and it is just that- propaganda. Nothing they say is true science. It is all about controlling people and getting grants. Solar flares contribute more to climate than all the CO2 mankind can produce. Plus, one volcanic eruption has more effect on our climate than any thing we can do. Yes, man can pollute, and we do. And that is a shame! We were also told to take care of this world, and in many cases we haven't. But this is a big old world, and we are a very, very small part of it.


It's about population

jeffbiss
4/21/2012 7:16:06 PM
Warren,

I don't believe in god, so that lord thing doesn't fly. The fact is that there are far too many people using finite resources, period. For example, the US has about 5% of the world's human population and uses about 25% of the earth's resources. That means for everyone to enjoy our standard of living the earth can sustain only 1.2 billion (300 million x 4). Therefore the only reason that 7 billion can exist is that so many do with so little. We are past peak oil and peak coal, which means that the era of cheap food is over. Also, China cannot feed itself and is leasing land in other nations to grow its crops, which means that those nations have less capacity for their own populations, which are forced to encroach into wildlife habitat.

So, the only political issue at hand is deluding ourselves into thinking that population isn't a problem.

As for global warming, it's obvious that it's not about global warming but the economic implications. You, being a free market ideologue, simply don't like the fact that the free market is wholly incapable of solving problems and so political will is required, such as mandating greenhouse gas emission limits and efficiencies for everything we do and use. It is a fact that the denier community has nothing to back up their denial except economic arguments, which are invalid in this discussion, and ideological arguments, such as we are too insignificant, god designed the earth for us and so it cannot fail, technology will provide a solution, and the free market will solve any problem, all of which are simply false.


Re: It's about population

JCG
4/23/2012 2:38:34 PM
jeffbiss:

While I agree on your remarks about concerns about biofuel, about the loss of food production to a less-efficient subsidized biomass fuel, I'm not a convert to the overpopulation/anthropogenic global warming scenario.

First, I looked up peak production of coal and oil. Since you liked citing Wikipedia, I also used it for sourcing. According to the sources cited by Wiki, there is an estimated 147 years of reserves-to-production ratio of 'proven' coal reserves. These 'proven' reserves are those that have been found and drilled to such an extent that they are determined to be 'proven'. (https://en.wikipedia.org/wiki/Coal). Wiki also has mentioned that there is a 120 years of 'proven' oil reserves at current usage (https://en.wikipedia.org/wiki/Crude_oil). While this is obvious not going to remain constant, this also applies only to 'proven' reserves. By 'peak oil' production (https://en.wikipedia.org/wiki/Peak_oil), I'm assuming that you are referring to the Hubbert peak theory (https://en.wikipedia.org/wiki/M._King_Hubbert). The belief that we have already reached 'peak oil' would be an assumption of the Low EURR (Estimated (World's) Ultimately Recoverable Resources) peak having already passed (assuming 2 trillion recoverable barrels total, while 1.2 trillion has been used, USGS 95% confidence level) as opposed to the Mean EURR (3 trillion barrels), which is close to Chevron's estimates, or the High EURR (4 trillion barrels, 5% confidence level) (http://gulfpetrolink.net/Peak_AlHusseini.pdf). To disagree with your statement that we can't engineer ourselves out of this one, I disagree. These numbers are based on 1) a current level of exploration and 2) current level of technology for oil extraction. In the U.S. our administration has all but ceased exploration on federally controlled lands and offshore leases by U.S. oil companies (although they freely allow Repsol and Chinese rigs to drill oil for Cuba off our leases) (http://www.time.com/time/world/article/0,8599,2105598,00.html; http://www.reuters.com/article/2012/02/02/us-cuba-oil-idUSTRE8111S620120202). There are reserves not found, and many wells that have been drilled but not 'proven' because they aren't as profitable for the large companies, so they'll cap them and lease/sell them to smaller oil companies to extract at smaller margins. The reexamination of current reserves, such as the Bakken formation, back in 2008, was only estimated to have 3-4.3 billion gallons recoverable & non-recoverable, but various estimates now place the number up to 24 billion barrels, although current estimates are at 18 billion (https://en.wikipedia.org/wiki/Bakken_formation). There are payoffs to be made in improving the efficiency of oil extraction/recovery... another improvement could also be made in refining, but we're closing down some of our inefficent refineries now due to the high cost of crude, let alone improving their efficiency (which is economically unfeasible given EPA regulation). There are also other avenues to further develop, such as CTL (coal to liquid), natural gas, etc. Even Hubbert was a proponent of solar and nuclear energy.

While I'm definitely open to global warming/climate change, I'm still not quite convinced its primarily anthropogenic. To suggest that anyone who disagrees with global warming/climate change may be 'deluded' or an 'ideologue', while deriding your debater diminishes your argument. There have been questions raised by CERN over solar emissions influencing cloud formation, which could have a bearing on global warming/climate change theories. I've heard questions raised about the correlation between CO2 & global warming/climate change, and the rate of increase, and whether trending is accurate or cherry picked. When I'd like to see source material, I'm more interested in scientific journals, such as this USGS article (http://volcanoes.usgs.gov/hazards/gas/index.php) and this (http://www.agu.org/pubs/pdf/2011EO240001.pdf), which are far more influential than ranting and raving, calling skeptics names, and citing political hack junk science rags like The New Scientist, or 'An Inconvenient Truth'. Not everyone that disagrees is a 'denier' or part of a conspiracy, just as not everyone who embracing climate change/global warming is a nutjob or part of a conspiracy.

I'm also curious about your take on overpopulation and its reduction... How do you suggest that we solve it? Why are you absolutely sure that we've already overpopulated the planet? Are you suggesting to go to Asia, home of 60% of the world's population and eliminating some, or are you on a eugenics crusade, wanting to pick and choose who lives and dies (U.N. Death Panel), or you simply suggesting that we eliminate the U.S. population as a starting point, since we're obviously the worst 'offenders' in resource management? I'd like to think that you are talking about reduction through attrition, but given your statements I'm not so sure. Do you have children? If so, aren't you contributing to the problem? How would you react to someone else saying that there are too many of YOU on this planet? I guess you already know, since you've said it yourself.

Maybe I'm alone in being disturbed, not by the subject of the argument, but the nature and statements of the debate. I agree with Warren on several points, but not all, but despite the calculations, which I haven't verified yet, I'm not overly keen to support you even if I agree with you because of your manner. There seems to be so little respect or consideration for the principles of the scientific method today... I've seen stories about climate change proponents wanting to hunt down 'deniers' and burn their houses and families to the ground... or believe that skeptics are suffering from a mental disorder. It seems that open debate is being squeezed out of our society, that mouths keep running but our ears are becoming closed... It seems that most, today, seem to have 'tolerance', but only for supporting thoughts and opinions. It doesn't seem that the climate change debate is over... it doesn't look like it was really ever allowed to begin.


Re: It's about population

jeffbiss
4/23/2012 3:52:26 PM
JCG,

I cite wikipedia only because it provides a nice chart.

How much of any given energy source is left is irrelevant, what is relevant is it's availability with respect to production. The fact is is that there is very little elasticity in supply, coal, oil, gas, and that has very harsh consequences for an ever increasing population and the economy on which that population depends. For a discussion see "Can the Economy Bear What Oil Prices Have in Store?", "Study: World's 'Peak Coal' Moment Has Arrived", and "World Oil Reserves at 'Tipping Point'".

You can disagree with me and insist that we can engineer our way out of this mess but you have nothing to back that up. The fact is that fossil fuels are a finite resource, and we have depleted most reserves to the point that the industry is exploiting far more marginal reserves, reserves that yield less energy at a higher cost; If reserves were not in decline, then prices would not continually increase and industry wouldn't be drilling in such hostile environments, such as the deep Gulf. This is obvious to many who make a living investing in energy production and make their arguments to other investors as seen in "Jeremy Grantham: In the Face of Finite Resources, It's Time to Think About "Peak Everything", "Officials Wake Up to Peak Oil", and "Peak Coal Theory: Peak Coal: Profit from the Peaks".

If you don't believe that overpopulation is a problem then you have to understand that currently the US uses about 20 million bbls of oil/day, which means that the per capita use is 0.064 bbl/person. Using the world's population of 7 billion, that means that for all people to attain a standard of living equal to ours, oil production needs to be 448.7x10E6 bbls/day or 5X the current production of 86.27x10E6 bbls/day. Also, as my previous calculation shows, that the US that has 5% of the world's population and uses 25% of its resources, we would need more than one earth to provide all people alive today with our standard of living, which is impossible.

As for reducing human population, all that's needed is to not create people who already do not exist.

With regards to the global warming debate, what evidence do you have that refutes the theory of anthropogenic causes? Please list these valid scientific articles. As for "There seems to be so little respect or consideration for the principles of the scientific method today", where is this applicable to climatology?



Re: Bluer Skies

Stuart21
4/23/2012 10:27:09 AM
Warren said "Global warming is another unsubstantiated and foolish claim that ignores reality- solar flares."

Substantiate.

"Plus, one volcanic eruption has more effect on our climate than any thing we can do."

Absolutely untrue. If that were the case, the CO2 record from Mauna Loa would show not spikes, but huge jumps whenever a Pinatubo or and Iceland volcano blew off. However, there is NO visible change from the steady climb which fits the record of fossil fuel use by man. Google & view it for yourself.

The planet emits ~ 200 million tons of CO2 p.a. Man emits 8,500 million tons. 42.5 times as much. (NOAA figures - other estimates are 100 to 200 times as much!)

The steady state CO2 level for mans current emissions is 1.2%.

"But this is a big old world, and we are a very, very small part of it."

If you use the word universe instead of world, yes I could agree with you. But man is well on the way to destroying the earth (for human habitation) and vested interests such as Heartless Inst. et al are doing everything they can to stop any efforts to prevent catastrophe. Yes, a - real - conspiracy.



I agree, Warren, that cost in an important factor. But cost changes. As demand for energy increases -- and it will dramatically as the world emerges from this downturn -- and as oil becomes more and more difficult to extract, the relative cost of alternatives will change as compared with oil.


Rob, I agree. There is no one solution to our fuel-hungry society. It's good to experiment and learn. The more we know the better decisions we'll make for the future.


I agree, Scott. At long as a barrel of oil remains above $100, we'll likely see a lot of experimenting. I can understand Saudi Arabia's interest in keeping oil bellow $80 a barrel. Their view is that if oil is below $80, we won't bother to develop alternatives.


biofuels are nonstarters

jeffbiss
4/20/2012 8:50:47 PM
Anyone who considers biofuels to be a replacement for fossil fuels really needs to do the math. The biofuel industry sidetracks food production and increases the devastation on wildlife as habitat is destroyed to grow crops for biofuel production as seen in Indonesia in their destruction of orangutan habitat and the slaughter of orangutans to create ever larger palm oil plantations.

The only solution to our energy problem is to greatly reduce how much energy we use, not deluding ourselves into thinking that technology will allow us to develop new sources. Also, we need to reverse human population growth to drive the global population to about 2 billion people, a sustainable level.


Re: biofuels are nonstarters

jmiller
4/23/2012 8:48:46 PM
I am curious if you have done any research on the increased corn production in the U.S. in conjunction with the ability to grow corn after corn. From the limited bit I hear from the news. There is a concern of dropping corn prices due to the largest surplus in history. It doesn't sound to me like we are running out of this resource. Again, maybe I am missing something.


The company I own has a client in South Georgia (USA) involved with planting 30,000 acres of a grass called Miscanthus X Gigantheus. The specific purpose being (after processing ) for the creation of biomass and eventually biofuel. I will admit, I was very skeptical at first but I have seen the data relative to yield and there is a viable market for the product. We will also be taking carbon credits for his investment. One other thing, it does not take away from edible foodstuffs AND can replinish neutrants lost from seasonal planting. Planting the rhizomes is the main difficulty because suitable equipment to automate the process is quite expensive--coming down in cost each year but still very expensive. I find this to be fascinating technology, even for a mechanical engineer. If you go online, look up Mississippi State University, ecology. There is a weath of information realtive to that particular crop and others. Thanks


An invasive specie

jeffbiss
4/22/2012 7:26:33 PM
bobengr,

First, Miscanthus X Gigantheus is a hybrid of a Japanese grass, and so is an invasive specie in North America and so does affect native species. Second, there is the problem of production to meet our current energy needs:

Gasoline energy content: 125 kBTU/gal
Ethanol (E85) energy content: 80 kBTU/gal

Grass ethanol yield: 3,250 gal eth/acre-year

Oil consumption/yr: (20 x10E6 bbls/day)(42 gal/bbl)(365 days/year)(125 kBTU/gal) = 3.8325x10E13 kBTU/year

Ethanol equivalent acres: (3.8325 10E13 kBTU/year)/[(80 kBTU/gal)(3250 gal eth/acre-year)] = 147.4x10E6 acres planted with grass/year

(147.4x10E6 acres grass/year)/(320.9x10E6 total acres planted in 2009) = 45.9% additional acres under cultivation to produce ethanol to replace oil.

While we will not be totally replacing oil with ethanol, this serves to show what scale would be required. Corn is even worse as its ethanol yield/acre is less. Also, you must account for the resources, for example fuel and water, required to plant, grow, harvest, convert, transport, etc. the crop for ethanol production. The same goes for biodiesel but with a different crop and yield (see http://en.wikipedia.org/wiki/Table_of_biofuel_crop_yields).

As biodiesel has about the same amount of energy as diesel, the number of acres required for any given crop that can be grown in the US is staggering, for example soybeans yield 48 gal/acre-year (6000 kBTU/acre-yr) and while peanuts produce more, 113 gal/acre, they can't be grown all over the US. This bodes ill for wildlife, such as orangutans as palm oil yields 635 gal/acre and so with the push for carbon-neutral "green" fuels, Indonesia will be destroying orangutan habitat, and thus killing orangutans, to create palm oil plantations to meet the demand of clueless "greenies".

So, while grass has a higher energy yield than soybeans, 260x10E3 kBTU/acre/yr compared to 6000 kBTU/acre/yr, nothing we do is sustainable at the current human population and resource use.


Re: An invasive specie

RNDDUDE
4/23/2012 10:31:07 AM
Wow, God got brought into this really quickly. Firstly, the term biofuel covers a variety of products created from a variety of feedstocks. I would agree that corn-based ethanol is a bad idea on many levels, but the article was about biofuel compatable with jetfuel, which would be a biodiesel, not ethanol. I was actually surprised that they were using a biodiesel formulated from waste cooking oil, nothing wrong with that, but it is a rather difficult fuel to assign cost to....if you can get the waste oil for free, it can be relatively economical, as many home-based biodiesel brewers will attest. The more interesting biodiesels are being made from non-food based crops and show a good potential. Unlike cars, the aviation industry will always be using liquid fuels, the promise of using biofuel is that it ultimately removes the feedstocks from petroleum and shifts it to organic-based, which means it in no longer a finite commodity.


biodiesel is a nonstarter

jeffbiss
4/23/2012 11:29:46 AM
RNDDUDE,

Biodiesel not a finite commodity? It most certainly is:

Soybeans yield: (48 gal/acre/yr)(125 kBTU/gal) = 6000 kBTU/acre-yr

Soybean biodiesel equivalent acres: (3.8325 10E13 kBTU/year petroleum use)/(6000 kBTU/acre-yr) = 6.3875x10E9 acres planted with soybeans/year

(6.3875x10E9 acres soybeans/year)/(320.9x10E6 total acres planted in 2009) = 1990.5% acres required to produce biodiesel to replace oil as compared to current agricultural use.

For sake of comparison, the USDA reports that the US planted and harvested 75.208x10E6 acres of soybeans in 2011. According to "Green fuel for the airline industry"

by David Strahan

13 August 2008 From New Scientist Print Edition the aviation industry uses 5x10E6 bbls/day. Therefore:



Soybean BTU yield: (75.208x10E6 acres)(6000 kBTU/acre-yr) = 4.51x10E11 kBTU/yr

Aviation use: (5 x10E6 bbls/day)(42 gal/bbl)(365 days/year)(125 kBTU/gal) = 9.58x10E12 kBTU/year

Soybean yield as percentage of current use: (4.51x10E11 kBTU/yr)/(9.58x10E12 kBTU/year) = 4.71 %

I don't see that as sustainable. The jet fuel test only serves to delude people into thinking that we can engineer our way out of this problem. The only way to sustainability is to reduce human population and become ever more efficient.


But biodiesel is subsidized by an impoverished nation (us) to the tune of at least $1.00 a gallon, and that is certainly unsustainable. Plus it is causing famine in many areas of the world as we convert food to fuel.


Re: biodiesel is a nonstarter

jeffbiss
4/23/2012 11:49:37 AM
No argument there. Although we're not impoverished, there's no need to subsidize delusion. But the corruption of special interest money in our politics is another discussion.


Re: biodiesel is a nonstarter

notarboca
4/23/2012 12:23:36 PM
It is good to see two opposing viewpoints being debated without degenerating into a flame war. Try that on most other internet boards:-) Keep up the good work, gentlemen.


Well I have never heard anything so STUPID in all my life! Getting along?

Thanks for noticing. However, we

are

an impoverished nation. Our government spends 3 times what it takes in, and that is the sign of a sick economy. And that is all the above board spending they tell us about.

So, my new friend, we do have to call ourselves impoverished, because if any of us did that, (a) our credit would run out, or (b) we would go bankrupt, or (c) we would be arrested. Or all three. We are living on our grandchildren's good credit.




Re: biodiesel is a nonstarter

aliphatic
4/23/2012 10:18:36 PM

Whether we're impoverished or not, perhaps we should be smarter about what feedstock we use.

Algae produces far greater BTU/acre energy density than any of the feedstocks so far discussed in this forum. Not only that, but also produces waste methane that can be used to aid pyrolysis in the transesterification process.

100,000 gal. (or 13B BTU/acre - yes, that's Billion) trumps the other alternatives so far suggested, and it can be hydroponically grown in otherwise unarable desert.

I guess that's why the DOE is spending a cr*pload of money trying to develop this tech.



aliphatic,

Good point about algae production. It does appear that it is a far better choice than most. However, I haven't seen the yield as high as you indicate. According to "Renewable Energy from Algae Biomass", depending on technology, the yield ranges as follows:

Low end: 1,800 gal bio-fuel/acre-year
High end: 9,000 gal bio-fuel/acre-year

This is far lower than the 100,000 gal/acre-yr that you state. However, at the high yield range algae appears more doable:

Oil consumption/yr: (20 x10E6 bbls/day)(42 gal/bbl)(365 days/year)(125 kBTU/gal) = 3.8325x10E13 kBTU/year

Algae bio-fuel yield (according to http://www.algaewheel.com/usage/renewable-energy/, depending on technology):
Low end: (1,800 gal bio-fuel/acre-year)(125 kBTU/gal) = 225x10E3 kBTU/acre-yr
High end: (9,000 gal bio-fuel/acre-year)(125 kBTU/gal) = 1.125x10E6 kBTU/acre-yr

Algae equivalent acres:
(3.8325 10E13 kBTU/year)/(225x10E3 kBTU/acre-year) = 170.3x10E6 algae acres/year
(3.8325 10E13 kBTU/year)/(1.125x10E6 kBTU/acre-yr) = 34.1x10E6 algae acres/year

Additional acres under cultivation to produce algae bio-fuel to replace oil:
(170.3x10E6 algae acres/year)/(320.9x10E6 total acres planted in 2009) = 53.1%
(34.1x10E6 algae acres/year)/(320.9x10E6 total acres planted in 2009) = 10.6.1%

So, adding 10% agricultural land for algae production is a far better prospect than the others. However, that still has consequences for wildlife in the areas that would be used and there are other considerations for algae production that I don't know at the moment, such as energy requried to produce bio-fuel and other resource requirements. Of course, if we reduce our energy requirement, then the acreage required would drop and producing oil already requires resources, so the analysis is more complicated than what I show here.


Hmm. Different sources, different numbers.

I guess it depends on the source of the feedstock, as usual. There are numerous species of algae, and according to http://oakhavenpc.org/cultivating_algae.htm (which draws its info from NREL studies conducted during the first oil crisis, back in the 1970s), the following table is representative of average yields based on species:

| | |
| --- | --- |
| Microalgal species | Oil content(% dw) |
| Ankistrodesmus TR-87 | 28-40 |
| Botryococcus braunii | 29-75 |
| Chlorella sp. | 29 |
| Chlorella protothecoides(autotrophic/ heterothrophic) | 15-55 |
| Cyclotella DI- 35 | 42 |
| Dunaliella tertiolecta | 36-42 |
| Hantzschia DI-160 | 66 |
| Nannochloris | 31(6-63) |
| Nannochloropsis | 46(31-68) |
| Nitzschia TR-114 | 28-50 |
| Phaeodactylum tricornutum | 31 |
| Scenedesmus TR-84 | 45 |
| Stichococcus | 33(9-59) |
| Tetraselmis suecica | 15-32 |
| Thalassiosira pseudonana | (21-31) |
| Crpthecodinium cohnii | 20 |
| Neochloris oleoabundans | 35-54 |
| Schiochytrium | 50-77 |

Therefore, your yield/acre/year should range from 5000-15000 US gal.

All of these are aquatic algae, and since the apparatus for growing them is fairly simple, it's a sustainable process that uses very little energy in itself. The electricity required to run the apparatus can be solar-generated onsite.

Furthermore, since the growing facility a) does not produce environmentally harmful effluent, and b) is essentially self-contained, it can be replicated in and around environmentally-sensitive areas of the southwest with very little impact.

I agree that human-engineered technology has some impact. However, I would argue that technology such as algae production has a far lower impact than, say, tar-sands petroleum extraction.

At the very least, it should be added to the mix of energy-sources - that's all I'm saying.


Re: algae

jeffbiss
4/24/2012 12:50:48 PM
aliphatic,

The upper range of 15,000 gals of oil/acre move the additional agricultural land to just above 5%, which is far better than any other alternative fuel crop. The problem still is how we choose to waste any given fuel and so I'd argue that regardless of source, we need to reduce our need, such as in developing efficient technologies to increase sustainability.

Researchers do have such concerns as shown in "High Energy Output Found from Algae-Based Fuel, but 'No Silver Bullet'", "Engineers Find Significant Environmental Impacts With Algae-Based Biofuel" and others listed next to the displayed article.

We could have less of a negative impact on the environment and the non-human animals that share the earth, but we need to care enough to do so. Currently, I just don't see that we do and that too many people don't have the luxury to reduce their impact and we have no interest, for a variety of reasons.


@jeffbiss, et al.

Any solution to the ongoing energy conundrum will require multiple approaches. I don't think that any thoughtful individual would argue that conservation, increases in design efficiency, alternatives to fossil-fuel, point-source generation, green buildings, etc. etc. etc. should all be part of our arsenal.

No where in my posts was it my intent to offer a silver bullet.

I personally believe that burning petroleum is terribly wasteful - it's so much more useful as a raw material than as a fuel. Sad, really. The more we can replace petroleum with renewable alternatives, the better off we'll be. It's really hard to make something like ABS or Polycarbonate from plants.

But it's hardly fair or reasonable to say that simply using algae is going to eliminate this problem - we must use everything we can come up with. No single solution can supplant the current system - coal and oil will probably be a part of the solution for a while, regardless of how much we may decry it's wasteful burning.

My argument is simply that we should include algae, since it is likely the most reasonable biofuel source at this time. If we can, and I suspect we will, come up with better ways of generating chemically convertible fuel, I'll support them also - but that's a few years off.

I am not arguing with your assertion. I still say we should use algae for now. At least no one can accuse us of depleting the food supply to garner energy.


aliphatic,

I don't think that I accused you of offering a "silver bullet", but I do think that the goal must be to be energy neutral, that we do not waste any finite energy resource such as oil, coal, natural gase, etc. So, I think that a "siver bullet" should be the goal, although that will not be any one thing but an array of neutral sources, as in non-depletable, carbon-neutral, and wildlife habitat and agricultural land loss neutral.

The fact is that we need a new sustainable operational paradigm to drive reasearch and development. Currently, the "free market" paradigm has failed to ever solve a problem and until we recognize that fact we will continue to delude ourselves into thinking that it can while we crash and burn.

So, while algae may be used, so will solar derived hydrogen for use in better fuel cells, human powered technology, etc. But, we need to have a goal and currently that goal is to allow the market, which is more concerned with profit and money, the figment of the human mind, than sustainability precisely because humans are more concerned with fulfilling their desires now than ensuring a sustainable future.



I just ran across an interesting study that seems germane to some of this discussion. That is, a supposed leftist orientation of those desiring sustainable energy alternatives doesn't exist, at least among Americans in general:

http://media.prnewswire.com/en/jsp/latest.jsp?resourceid=5146934&access=EH

Another thing to keep in mind is that, when DN polled engineers last year regarding their interest in bioplastics, more than 60% of them said they would consider their use:

http://www.designnews.com/document.asp?doc_id=230486



left v right?

jeffbiss
4/25/2012 3:50:27 PM
Ann,

Can you provide the title of the study? The link you provided lists stories, but not the specific one you reference as far as I can tell.

Thanks.



Thanks for letting me know--that's one of those changing links pages. Here's a better link, which also includes the title

http://www.marketwatch.com/story/survey-partisan-divide-on-energy-issues-is-a-myth-strong-bipartisan-support-seen-for-shift-to-cleaner-energy-2012-04-25



That's very good news

jeffbiss
4/26/2012 1:35:12 PM
Thanks for finding that survey. So, this exposes the fundamental problem with regards to sustainability, such as the use of biofuels in the article, and that is our corrupt political system. I understand that certain engineers dont' feel that this issue belongs on this site, but I totally disagree as engineering is about finding solutions, and that includes minimizing our negative effects. It seems that most Americans agree but certain special interests don't and they carry mroe weight than the voters.



Thanks for the feedback. Clearly, some engineers who post comments on this site do think that political barriers to engineers' ability to do their jobs is worth mentioning and even discussing, as they keep bringing it up :)

What's at least as interesting to me as this study of Americans in general is that survey we did last year about what engineers thought about bioplastics, and the positive response to at least being willing to try them out in the next five years.



You know, I enjoyed the article, and felt some hopeful reassurance in the successful trial flight. Then, I read the increasingly turbulent comment threads, and was actually saddened by the extremist pontifications of some of the moderators. I'm not impressed by the long-winded list of "supporting evidence", on either side of the alleged argument because this was not an article on Global Warming.


you're correct, but only to a point

jeffbiss
4/24/2012 9:43:59 AM
JimT,

This is an article on the use of biofuels. The article states "The flight from Boeing's Delivery Center in Everett, Wash., to Tokyo Haneda Airport brings the airline industry a step closer to environmentally friendly and fuel-efficient long-haul flights", which brings up environmental issues, such as global warming and sustainability.

Environmentalism and sustainability is part of engineering, as is the economics of use. We, as engineers, must take into account all factors involving whatever we are designing, and that includes aspects not necessarily obvious at first glance.


Progress in using biofuels for transportation

Ann R. Thryft
4/24/2012 12:48:49 PM

Thanks for reporting on this. In Europe, biofuels are becoming common in road transport, and are about to enter usage in air transport. Although the US is behind Europe on such efforts, it's good to know we're at least getting started.






Dow Chemical and several other companies have launched a program in Omaha, Neb. to divert about 36 tons of plastics from landfills in its first phase, and convert it into energy used for cement production.
Both traditional automation companies and startups are developing technologies to improve processes on the factory floor, while smart sensors and other IoT-related technologies are improving how products are handled during transport and across the supply chain.
Remote monitoring now looks beyond the individual motor or conveyor and instead views the process from end to end.

0
BASF is partnering with Hyundai on a high-performance concept car that showcases both eco-friendly, sustainable materials and materials to enable lighter weight cars.

0
In an move to ease the use of multiple product design tools, PLM provider Aras and EDM company Zuken have integrated their products.
Design News Webinar Series
10/27/2016 11:00 AM PDT | 2:00 PM EDT
10/4/2016 11:00 AM PDT | 2:00 PM EDT
9/29/2016 11:00 AM PDT | 2:00 PM EDT
9/27/2016 8:00 AM PDT | 11:00 AM EDT

The Continuing Education Center offers engineers an entirely new way to get the education they need to formulate next-generation solutions.


Oct 10 - 14, Embedded System Design Techniques™: Getting Started Developing Professional Embedded Software

Focus on Fundamentals consists of 45-minute on-line classes that cover a host of technologies. You learn without leaving the comfort of your desk. All classes are taught by subject-matter experts and all are archived. So if you can't attend live, attend at your convenience.
Next Course September 27-29: