Boeing collaborated with All Nippon Airways (ANA) to fly a 787 Dreamliner using biofuel across the Pacific Ocean on Tuesday. The flight from Boeing's Delivery Center in Everett, Wash., to Tokyo Haneda Airport brings the airline industry a step closer to environmentally friendly and fuel-efficient long-haul flights.
The plane used both biofuel (made mainly of used cooking oil) and jet fuel to make the journey.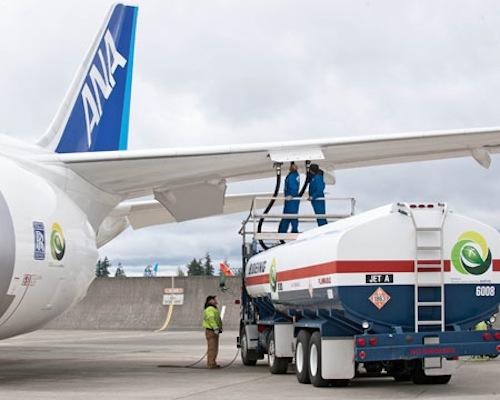 Boeing said the use of biofuel and the overall design of the Dreamliner (which has been optimized for fuel efficiency) lowered CO2 emissions 30 percent on the journey. The biofuel contributed about 10 percent of that reduction, while the overall design efficiencies built into the jet contributed about 20 percent, the company said.
The airline industry is in the nascent stages of exploring the use of biofuel to support green-energy goals and cut fuel costs. So far, many of the biofuel flights by carriers like Alaska Airlines and Continental Airlines have been short.
Osamu Shinobe, senior executive vice president at ANA, said in a press release that the Dreamliner flight showed the viability of using alternative fuels even on longer journeys. "Our historic flight using sustainable biofuels across the Pacific Ocean highlights how innovative technology can be used to support our industry's goal of carbon-neutral growth beyond 2020."




5
Nissan Motor Co. is taking the electric vehicle into new territory, rolling out an exotic-looking three-seat concept car that combines sustainability with race car-like performance.

1
3D visualization is helping us express information in a way that's more informative and easier to decipher.

1
A new service lets engineers and orthopedic surgeons design and 3D print highly accurate, patient-specific, orthopedic medical implants made of metal -- without owning a 3D printer. Using free, downloadable software, users can import ASCII and binary .STL files, design the implant, and send an encrypted design file to a third-party manufacturer.

4
Google is developing robots for manufacturing, assembly, and warehouse tasks.

21
When Dick Neubert discovered that his fireplace's heatilators lost heat when not in use, he created a gadget to rectify the situation.


LATEST ARCHIVED BROADCAST
For industrial control applications, or even a simple assembly line, that machine can go almost 24/7 without a break. But what happens when the task is a little more complex? That's where the "smart" machine would come in. The smart machine is one that has some simple (or complex in some cases) processing capability to be able to adapt to changing conditions. Such machines are suited for a host of applications, including automotive, aerospace, defense, medical, computers and electronics, telecommunications, consumer goods, and so on. This discussion will examine what's possible with smart machines, and what tradeoffs need to be made to implement such a solution.



Datasheets.com Parts Search
185 million searchable parts
(please enter a part number or hit search to begin)