The market demand for grid storage of electrical power will skyrocket over the next five years, spiking from about $2.8 billion in 2012 to $113.5 billion in 2017, according to a new study from Lux Research Inc.
The study highlights the fact that as renewable power grows, utilities and commercial sites will one day need large back-up facilities to supply energy when the wind's not blowing and the sun's not shining. "In most regions, intermittent renewables will need to have some type of storage or new infrastructure if they're ever going reach huge numbers -- 10 percent or 20 percent or 30 percent of our overall power," Brian Warshay, lead author of the new study and a research associate for Lux Research, told us.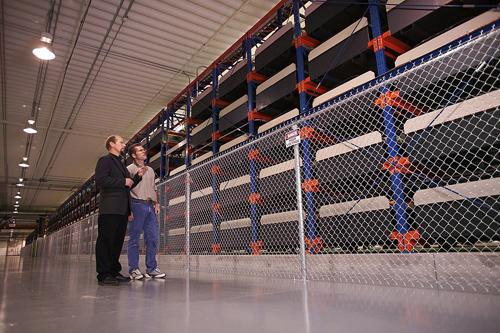 The report, "Grid Storage Under the Microscope: Using Local Knowledge to Forecast Global Demand," contends that five countries -- the US, Japan, China, UK, and Germany -- will account for about 70 percent of that overall demand. The US will be the biggest of those, with a demand of more than $20 billion per year by about 2017.
The study reinforces what many experts have said in recent years -- that wind and solar will hit sticking points when they reach a level between 10 percent and 20 percent of the country's overall electricity production (currently, the two compose about 4 percent to 5 percent of the electricity produced in the US). The reason is that wind and solar are intermittent sources -- that is, they produce electricity only when the wind is blowing and the sun is shining. Since, in most cases, electricity is consumed moments after it's created, wind and solar would require back-up storage to prevent rolling brown-outs and black-outs.
Lux's study looked at the use of emerging technologies, such as batteries and flywheels, for use in grid energy storage. Candidate technologies included lithium-ion batteries, advanced lead-acid batteries, molten salt batteries, flow batteries, and flywheels. Most of those technologies would be used in giant warehouses containing about 10MW to 100MW in battery capacity, Warshay said. "We don't foresee a lot of centralized, large-scale, gigawatt-level storage," he told us. "We see it happening in tens and hundreds of megawatts, where it makes sense."
Warshay added that those smaller-scale systems could be employed on the community level, for storage of wind and solar power, or on the commercial level. "Commercial systems pose an exciting opportunity for storage, especially in industries that have a high demand for reliable electricity," he said. "Companies at risk of losing a lot of money during a brown-out or black-out would be candidates for this." Such companies might have onsite storage facilities designed to take up the slack during black-outs, he said.