A tiny touchpad in the armrest or steering wheel of future vehicles could enable drivers to more easily communicate with a car's audio, radio, phone, or navigation system, thus reducing driver distraction.
Developed by TRW Automotive, the new touchpad employs capacitive sensors that allow drivers to use a finger to jot script onto a screen as small as an inch square. By writing a few letters on the screen, drivers could access the navigation system, a radio station, a certain song on an iPod, or numerous other in-car features. The key to the system is its ability to allow users to communicate with the vehicle without taking their eyes off the road.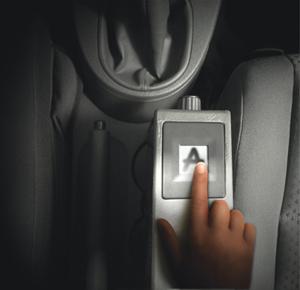 "When drivers are unable to input information in the correct way, they get distracted," Frank Koch, advanced engineering manager for TRW Body Control, told us. "What we've done is calculate the position and motion of your finger, and then translate that into numbers, letters, and words." The automotive supplier has accomplished that by creating a small screen that allows the driver to keep his or her arm fixed and merely move a thumb or finger to give a command. "You have to have your arm fixed and the touch pad must be near your finger," Koch said. "You could do that in an armrest or in the steering wheel, where your arm is fixed to the rim of the wheel."
Unlike the traditional capacitive screens employed in consumer electronics, TRW's system uses only a few sensors, rather than a capacitive array with as many as 20 devices per square centimeter. When a user touches the screen, it sends a signal to a microcontroller (MCU) with onboard software algorithms that recognize the change in capacitance and understand the script. A driver, for example, could write an "A" for audio, an "R" for radio, an "N" for navigation, or "CD" for the CD player, and the system could "know" which features to operate. A vehicle manufacturer could also set up the system so it recognizes nomadic devices, such as iPods and cellphones, Koch said.