An extended tail cone, engine-wing integration, and updates to flight and electronics controls are new features designed to help Boeing's next-generation 737 Max airliner meet fuel efficiency goals.
Boeing unveiled these and other design features for the forthcoming 737 series Wednesday. The features as part of its plans to optimize the performance of the airliner's key feature: the CFM International LEAP-1B engine, which is larger and more efficient than those used in previous members of the 737 family.
Boeing is hoping for a fuel-burn improvement of 10-12 percent from the 737 Max, which is expected to be available in 2017. The decision to focus on a fuel-efficient design for the jet is a response to the needs of a financially strapped airline industry grappling with rising oil prices. Sixteen customers already are lined up to use the new planes, including American Airlines and Southwest, according to Boeing.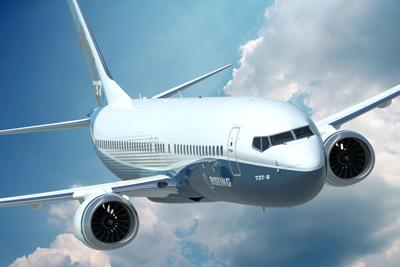 Specifically, the company said changes to the tail and wing design (including a feature borrowed from Boeing's plans for its 787 Dreamliner) should help improve the 737 Max's performance. To reduce drag on the jet, Boeing will extend its tail cone and thicken the section above the elevator to steady the airflow. The company also is integrating the airliner's engine with the wing -- a design that's similar to the Dreamliner.
To accommodate the larger engine fan and keep the plane's ground clearance the same as the current 737s, Boeing said it will install a new pylon and strut, along with an eight-inch extension to the nose gear. Changes to the flight control and electrical system also are on tap to support fuel efficiency. The 737 Max flight controls will include fly-by-wire spoilers, which will save weight by replacing a mechanical system. The airliner also should gain fuel efficiency from an electronic bleed air system that will optimize cabin pressurization and ice protection systems.
Boeing is planning other minor design changes to accommodate the increased passenger and freight loads the 737 Max's larger engine will allow, including reinforcing the main landing gear, wing, and fuselage. Another feature that may end up in the final design is a wing tip revision that is undergoing wind-tunnel tests, according to Boeing. The company will continue to work on optimizing the 737 Max design through mid-2013 to further tweak performance.
Related posts: