Vinyl compounds that incorporate bio-based plasticizers to make them flexible are equal or better in performance to their traditional counterparts based on petrochemicals, but may be more cost-effective. Custom plastics compounder Teknor Apex introduced the new materials at the NPE2012 show in Orlando, Fla.
The BioVinyl flexible vinyl compounds incorporate DOW ECOLIBRIUM bio-based plasticizers, which are phthalate-free. The vinyl compounds have a smaller carbon footprint than alternative plastics like polyolefins or polyurethanes, and may also be more cost-efficient than plant-based polymers.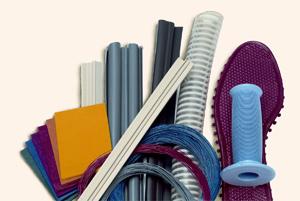 In tests conducted by Teknor Apex researchers on several application-tailored BioVinyl flexible vinyl compounds, the bio-based plasticizers showed 10 percent and 16 percent greater efficiency than standard DEHP and DINP plasticizers, respectively, Louis Cappucci, VP of Teknor Apex's vinyl division, told us. "This makes it possible to use less plasticizer per pound of compound, lowering costs. There are five or six other options for replacing phthalates, and many of them are expensive." Typically, 30 percent of the compound by weight consists of plasticizers, 50 percent is PVC resin, and the other 20 percent consists of various custom ingredients, said Cappucci. Teknor Apex's BioVinyl compounds contain 35 percent or less petrochemical content. "Vinyl compounds that incorporate DOW ECOLIBRIUM bio-based plasticizers actually contain about 60 percent renewable resources, since half of the PVC polymer is derived from seawater."
Substituting the new plasticizers for conventional phthalates makes the carbon footprint of BioVinyl compounds much smaller than that of many plastics. Comparative data compiled by Teknor Apex indicates that CO2 emission equivalents of BioVinyl compounds is half that of polyolefin resins and even lower than that of bioplastic polylactic acid (PLA).




1
Contributing editor Cabe Atwell developed a Raspberry Pi and Arduino-based remote network fish tank control for his goldfish, Goldie Fishwater.

4
Are they robots or androids? We're not exactly sure. Each talking, gesturing Geminoid looks exactly like a real individual, starting with their creator, professor Hiroshi Ishiguro of Osaka University in Japan.

1
Hybrid vehicle engineers may now have a way to do hardware-in-the-loop simulation testing, instead of physical dynamometer testing, on the electric motors that propel their cars.

8
NASA is developing Project Morpheus, a vehicle that can lift off and set itself down on planetary surfaces.

19
Nissan Motor Co. is taking the electric vehicle into new territory, rolling out an exotic-looking three-seat concept car that combines sustainability with race car-like performance.


LATEST ARCHIVED BROADCAST
For industrial control applications, or even a simple assembly line, that machine can go almost 24/7 without a break. But what happens when the task is a little more complex? That's where the "smart" machine would come in. The smart machine is one that has some simple (or complex in some cases) processing capability to be able to adapt to changing conditions. Such machines are suited for a host of applications, including automotive, aerospace, defense, medical, computers and electronics, telecommunications, consumer goods, and so on. This discussion will examine what's possible with smart machines, and what tradeoffs need to be made to implement such a solution.



Datasheets.com Parts Search
185 million searchable parts
(please enter a part number or hit search to begin)