Vinyl compounds that incorporate bio-based plasticizers to make them flexible are equal or better in performance to their traditional counterparts based on petrochemicals, but may be more cost-effective. Custom plastics compounder Teknor Apex introduced the new materials at the NPE2012 show in Orlando, Fla.
The BioVinyl flexible vinyl compounds incorporate DOW ECOLIBRIUM bio-based plasticizers, which are phthalate-free. The vinyl compounds have a smaller carbon footprint than alternative plastics like polyolefins or polyurethanes, and may also be more cost-efficient than plant-based polymers.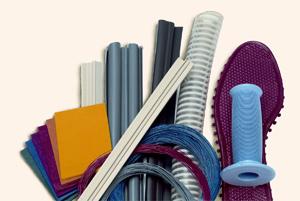 In tests conducted by Teknor Apex researchers on several application-tailored BioVinyl flexible vinyl compounds, the bio-based plasticizers showed 10 percent and 16 percent greater efficiency than standard DEHP and DINP plasticizers, respectively, Louis Cappucci, VP of Teknor Apex's vinyl division, told us. "This makes it possible to use less plasticizer per pound of compound, lowering costs. There are five or six other options for replacing phthalates, and many of them are expensive." Typically, 30 percent of the compound by weight consists of plasticizers, 50 percent is PVC resin, and the other 20 percent consists of various custom ingredients, said Cappucci. Teknor Apex's BioVinyl compounds contain 35 percent or less petrochemical content. "Vinyl compounds that incorporate DOW ECOLIBRIUM bio-based plasticizers actually contain about 60 percent renewable resources, since half of the PVC polymer is derived from seawater."
Substituting the new plasticizers for conventional phthalates makes the carbon footprint of BioVinyl compounds much smaller than that of many plastics. Comparative data compiled by Teknor Apex indicates that CO2 emission equivalents of BioVinyl compounds is half that of polyolefin resins and even lower than that of bioplastic polylactic acid (PLA).




0
We see Gadget Freak projects from all walks of life, but many of our most imaginative gadgets are created by budding engineers.

1
By experimenting with the photovoltaic reaction in solar cells, researchers at MIT have made a breakthrough in energy efficiency that significantly pushes the boundaries of current commercial cells on the market.

0
Advanced Micro Devices' latest release brings a cloud-based graphics boost, along with unparalleled performance, to the workstation.

1
In a world that's going green, industrial operations have a problem: Their processes involve materials that are potentially toxic, flammable, corrosive, or reactive. If improperly managed, this can precipitate dangerous health and environmental consequences.

7
With LEDs dropping in price virtually every year, automakers have begun employing them, not only on luxury vehicles, but on entry-level models, as well.


A quick look into the merger of two powerhouse 3D printing OEMs and the new leader in rapid prototyping solutions, Stratasys. The industrial revolution is now led by 3D printing and engineers are given the opportunity to fully maximize their design capabilities, reduce their time-to-market and functionally test prototypes cheaper, faster and easier. Bruce Bradshaw, Director of Marketing in North America, will explore the large product offering and variety of materials that will help CAD designers articulate their product design with actual, physical prototypes. This broadcast will dive deep into technical information including application specific stories from real world customers and their experiences with 3D printing. 3D Printing is




Datasheets.com Parts Search
185 million searchable parts
(please enter a part number or hit search to begin)