Boeing has successfully completed the first test of a commercial spacecraft that might eventually be used to ferry passengers and cargo to the International Space Station.
Boeing said the company and its design partner, Bigelow Aerospace, dropped a mockup of the Crew Space Transportation (CST)-100 spacecraft last week from 11,000 feet at the Delamar Dry Lake Bed near Alamo, Nev. The capsule landed safely after its three main parachutes deployed to slow its descent, followed by the inflation of six airbags to cushion the ground impact.
The drop -- part of Phase 2 of the CST-100's development -- was the first to test all the combined elements of the vehicle's landing system, which includes crew and service modules, according to Boeing.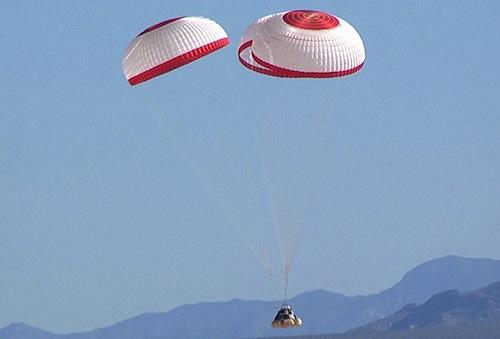 The CST-100 was designed by Boeing and Bigelow for NASA's Commercial Crew Development Program (CCDev), which will be the first program in the agency's history to use spacecrafts designed and built by the private sector.
The primary mission of the CST-100 would be to fly crew and cargo back and forth from Earth to the International Space Station and other privately owned stations, such as Bigelow's proposed Commercial Space Station.
The CST-100 is a next-generation design of the NASA space capsules that transported astronauts during the agency's earliest space flight programs. However, unlike those capsules, it's designed to land safely on land, as well as in the water.