Have automobiles become electronics platforms with engines and transmissions thrown in as afterthoughts? One might be forgiven for thinking so. At the 2012 New York International Auto Show, taking place at New York City's Javits Center April 6 through 15, there was less differentiation amongst products outside the sheet metal than beneath it.
Under the hood, power trains are moving forward via the slow but steady mainstreaming of hybrids and electric vehicles. Performance cars are pushing the envelope with faster but more economical engines. And collector cars of yore, in a special show-floor pavilion, proved that Detroit has quite a historical heritage.
Click on the picture below to see our gallery of the latest from the New York Auto Show floor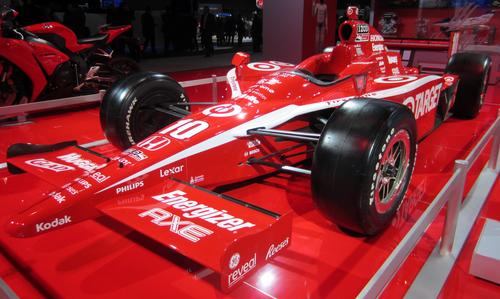 Honda's Indy Grand Prix car. This chassis first raced in 2006 and won the Toronto Indy in 2009.
Related posts:
For a close-up look at GM's Chevy Volt, go to the Drive for Innovation site and follow the cross-country journey of EE Life editorial director, Brian Fuller.



We see Gadget Freak projects from all walks of life, but many of our most imaginative gadgets are created by budding engineers.
By experimenting with the photovoltaic reaction in solar cells, researchers at MIT have made a breakthrough in energy efficiency that significantly pushes the boundaries of current commercial cells on the market.
Advanced Micro Devices' latest release brings a cloud-based graphics boost, along with unparalleled performance, to the workstation.

1
In a world that's going green, industrial operations have a problem: Their processes involve materials that are potentially toxic, flammable, corrosive, or reactive. If improperly managed, this can precipitate dangerous health and environmental consequences.

5
With LEDs dropping in price virtually every year, automakers have begun employing them, not only on luxury vehicles, but on entry-level models, as well.


A quick look into the merger of two powerhouse 3D printing OEMs and the new leader in rapid prototyping solutions, Stratasys. The industrial revolution is now led by 3D printing and engineers are given the opportunity to fully maximize their design capabilities, reduce their time-to-market and functionally test prototypes cheaper, faster and easier. Bruce Bradshaw, Director of Marketing in North America, will explore the large product offering and variety of materials that will help CAD designers articulate their product design with actual, physical prototypes. This broadcast will dive deep into technical information including application specific stories from real world customers and their experiences with 3D printing. 3D Printing is




Datasheets.com Parts Search
185 million searchable parts
(please enter a part number or hit search to begin)