Have automobiles become electronics platforms with engines and transmissions thrown in as afterthoughts? One might be forgiven for thinking so. At the 2012 New York International Auto Show, taking place at New York City's Javits Center April 6 through 15, there was less differentiation amongst products outside the sheet metal than beneath it.
Under the hood, power trains are moving forward via the slow but steady mainstreaming of hybrids and electric vehicles. Performance cars are pushing the envelope with faster but more economical engines. And collector cars of yore, in a special show-floor pavilion, proved that Detroit has quite a historical heritage.
Click on the picture below to see our gallery of the latest from the New York Auto Show floor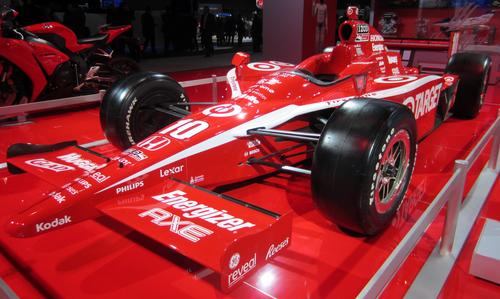 Honda's Indy Grand Prix car. This chassis first raced in 2006 and won the Toronto Indy in 2009.
Related posts:
For a close-up look at GM's Chevy Volt, go to the Drive for Innovation site and follow the cross-country journey of EE Life editorial director, Brian Fuller.




1
Contributing editor Cabe Atwell developed a Raspberry Pi and Arduino-based remote network fish tank control for his goldfish, Goldie Fishwater.

8
Are they robots or androids? We're not exactly sure. Each talking, gesturing Geminoid looks exactly like a real individual, starting with their creator, professor Hiroshi Ishiguro of Osaka University in Japan.

1
Hybrid vehicle engineers may now have a way to do hardware-in-the-loop simulation testing, instead of physical dynamometer testing, on the electric motors that propel their cars.

8
NASA is developing Project Morpheus, a vehicle that can lift off and set itself down on planetary surfaces.

20
Nissan Motor Co. is taking the electric vehicle into new territory, rolling out an exotic-looking three-seat concept car that combines sustainability with race car-like performance.


LATEST ARCHIVED BROADCAST
For industrial control applications, or even a simple assembly line, that machine can go almost 24/7 without a break. But what happens when the task is a little more complex? That's where the "smart" machine would come in. The smart machine is one that has some simple (or complex in some cases) processing capability to be able to adapt to changing conditions. Such machines are suited for a host of applications, including automotive, aerospace, defense, medical, computers and electronics, telecommunications, consumer goods, and so on. This discussion will examine what's possible with smart machines, and what tradeoffs need to be made to implement such a solution.



Datasheets.com Parts Search
185 million searchable parts
(please enter a part number or hit search to begin)