As part of its Moldflow lineup, Autodesk also offers Moldflow Insight WS. This lets plastics engineers tap into the scale and massive computing power of Autodesk's 360 cloud-based PLM platform to access simulation capabilities on an as-needed basis and to solve multiple scenarios in parallel without having to build the costly hardware to support it.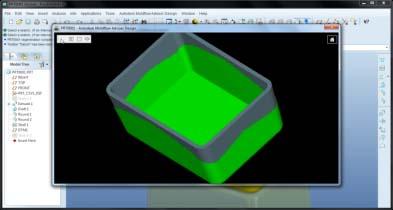 The other Autodesk plastics-related enhancement is the commercial release of Project Krypton, a simulation capability (which we've discussed before) that plugs into CAD software to serve up real-time feedback on part design, including how design changes affect manufacturability, cost, and sustainability.
Now officially called Autodesk Simulation DFM (Design for Manufacturing), the tool is powered by Autodesk Simulation Moldflow and works within Dassault, SolidWorks, and PTC Creo CAD tools. It delivers real-time feedback as designers work on their designs, using familiar indicators like green, yellow, and red lights to identify potential problems. It also delivers information about the source and location of a problem, so it can be addressed early in the design cycle.
SolidWorks' entry into this space is SolidWorks Plastics, a module that runs within the SolidWorks CAD tool, so engineers and mold makers can operate within a familiar environment to optimize plastic molds and parts for manufacturability.
Related posts: