Engineers, lab scientists, and medical workers who must view magnified 3D images produced with two different cameras for long periods of time typically suffer from eye fatigue and other discomfort. A single-lens 3D microscope imaging system aims to eliminate that.
A lot of 3D video, especially in industrial machine vision, is created with two different cameras, because this system is less expensive, easier to set up, or both. Multiple 2D cameras are positioned around objects on an assembly line and synchronized with triggering devices, producing stereo images. But viewing 3D images produced with two cameras gives many people eye problems and headaches, because parallax prevents the images from aligning perfectly.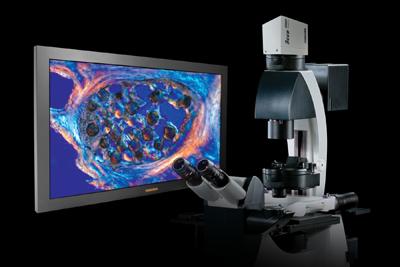 ISee3D has invented single-lens/single-camera 3D technology for improving stereoscopic 3D vision. It has formed a partnership with Toshiba Imaging, which is known for its CCD image sensors that produce high-quality, high-definition color video. These sensors are still used in high-end applications such as machine vision and are different from the somewhat lower-quality, high-volume, less expensive CMOS sensors in cellphone cameras and laptops.
The ISee3D single-camera microscope digital video system produces carefully aligned, perfectly matched images. The fact that the system can project those images on a high-definition monitor makes the viewing of 3D images even easier. The two companies displayed the microscope/monitor imaging system recently at the Pan Pacific Hotel in Vancouver.




1
Contributing editor Cabe Atwell developed a Raspberry Pi and Arduino-based remote network fish tank control for his goldfish, Goldie Fishwater.

4
Are they robots or androids? We're not exactly sure. Each talking, gesturing Geminoid looks exactly like a real individual, starting with their creator, professor Hiroshi Ishiguro of Osaka University in Japan.

1
Hybrid vehicle engineers may now have a way to do hardware-in-the-loop simulation testing, instead of physical dynamometer testing, on the electric motors that propel their cars.

8
NASA is developing Project Morpheus, a vehicle that can lift off and set itself down on planetary surfaces.

19
Nissan Motor Co. is taking the electric vehicle into new territory, rolling out an exotic-looking three-seat concept car that combines sustainability with race car-like performance.


LATEST ARCHIVED BROADCAST
For industrial control applications, or even a simple assembly line, that machine can go almost 24/7 without a break. But what happens when the task is a little more complex? That's where the "smart" machine would come in. The smart machine is one that has some simple (or complex in some cases) processing capability to be able to adapt to changing conditions. Such machines are suited for a host of applications, including automotive, aerospace, defense, medical, computers and electronics, telecommunications, consumer goods, and so on. This discussion will examine what's possible with smart machines, and what tradeoffs need to be made to implement such a solution.



Datasheets.com Parts Search
185 million searchable parts
(please enter a part number or hit search to begin)