When Tesla got started, there were no active EV programs at any major car companies, according to Straubel. Many have since come around and are developing and marketing EVs. He finds it ironic that when Tesla was launched, the founders were often asked why no one else was building EVs if they were such a good idea. Now that other automakers are offering EVs, Tesla is often asked if it can succeed when so many are working on EVs.
Straubel said Tesla applauds the fact that major automakers have come around. Making a real dent in fossil fuel consumption requires all automakers to offer EVs. "If we'd launched out to sea and no one followed, if the whole industry sort of stood on the shore and watched, that would have been a really difficult place."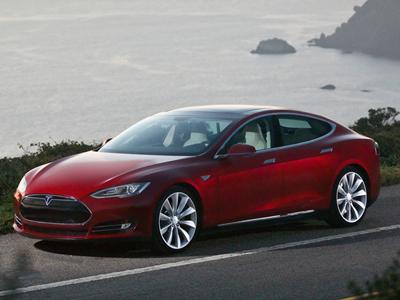 Tesla has been putting its EV component capabilities to work with other automakers, he said. It signed a 2011 deal with Toyota Motor Corp. to supply EV powertrain systems for electric versions of the Rav4, which are expected to be available this year.
New Tesla EVs on the way
Meanwhile, Straubel said, Tesla has continued to refine and improve the technology for its own vehicles, and it has begun development of a vehicle meant to cost substantially less than the original Roadster EV, which cost more than $100,000.
Next year, Tesla expects to bring to market its Model S, which features multiple configurations, including a base model priced at less than $50,000. The various configurations of the Model S, which was designed and built from the ground up, include battery packs that offer different driving ranges.