Slow, steady improvement in battery technology over several decades has brought the world to the cusp of a tipping point that will increase the adoption of electric vehicles and could help curb civilization's reliance on fossil fuels, according to JB Straubel, chief technology officer and co-founder of Tesla Motors Inc.
Delivering a keynote address at the DESIGN West event in San Jose, Calif., this week, Straubel said that even though critics often point out that there is no equivalent to Moore's Law in terms of battery technology improvement, battery technology has slowly improved over many decades, resulting in an average annual improvement of 7 percent to 8 percent in energy density.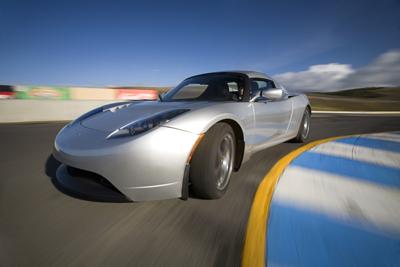 Straubel said battery technology has improved to the point that EVs can offer a driving range of 200 miles or more under normal conditions on a full charge. And they will continue to offer higher ranges, better performance, and potentially lower costs. "Cost is still the most important challenge for batteries."
Tesla was founded in 2003 to help drive the world toward sustainable transportation, he said. Transportation is currently driven almost entirely by fossil fuels. In the US, 96 percent of all transportation is driven by petroleum. "We cannot keep doing that for decades to come. Certainly not centuries."
Future generations are likely to wonder why so much of the world's finite supply of petroleum was squandered on relatively short car rides, which could be replaced relatively easily with electric vehicles, Straubel said. In the US, about half of petroleum use comes from people who commute 20 to 50 miles a day. Such trips are easily within the range of EVs from Tesla and others, and the petroleum saved could be used for longer trips and especially for things like airplane flights.