The Sand Flea weighs 11 pounds, and on flat ground it drives like a typical radio-controlled car. But when it meets an obstacle, it can jump 30 feet into the air. That's high enough to reach the top of a flight of stairs, the roof of a typical house, the other side of a high wall, or jump through a second-story window. It can jump about 25 times on a single charge.
Sand Flea uses gyro-stabilization, a technique employed for stabilizing radio-controlled flying vehicles, as well as movie cameras used in the film industry. This provides a clear view from the robot's onboard camera, and helps it stay level during flight and ensure a smooth landing.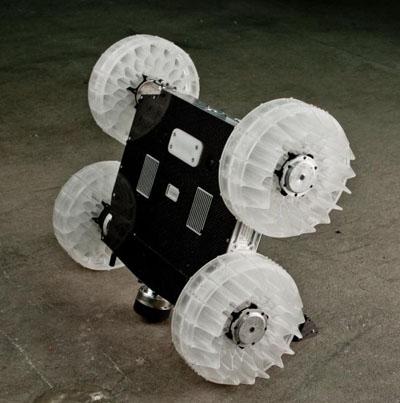 The six-legged RHex robot's mobility is based loosely on the behavior of a cockroach. It works especially well on loose sandy soil, river banks, mud, rocky inclines, railroad tracks, and up telephone poles, slopes, and stairways. Its body is entirely sealed and it can swim or dive underwater.
RHex runs for up to six hours on a single battery charge and weighs 30 pounds, so it can fit into a backpack. It is controlled remotely up to 600 meters from the operator control unit. Front and rear views from onboard cameras are accessed over a video uplink. RHex also uplinks navigational data from an onboard compass and GPS and from its payload.
Boston Dynamics is the well-known developer of the first robots to run and maneuver with motions based on animals, such as the BigDog, Petman, Cheetah, and AlphaDog.
Watch videos of each of these robotic bugs in action:
Sand Flea RHex Precision Urban Hopper
Related posts: