Using a new 32-bit microcontroller (MCU) family, engineers may now have a more cost-effective way of delivering precise power control to products ranging from washers and dryers to solar inverters.
Known as the RX62G group, the new MCUs combine high performance with onboard peripherals in a way that eliminates the need for designers to employ dedicated digital signal processors (DSPs) or application-specific integrated circuits in order to achieve high energy efficiency.
The 32-bit devices incorporate specialized timers, high-speed pulsewidth modulation (PWM), and customized analog-to-digital converters. Renesas Electronics introduced the new microcontroller family at DESIGN Westlast week in San Jose, Calif.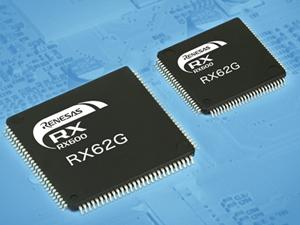 "This is the first time we've integrated all these features into a microcontroller," Riteshi Tyagi, senior director of microcontroller marketing at Renesas Electronics, told us. "It allows the engineer to reduce BOM (bill of material) cost, and board space, and still provide a much more cost-effective way of driving these motors."
The need for such technologies has sprung up over the last few years, largely due to a demand for greater energy efficiency in appliances and power systems. To make it happen, however, engineers need to replace induction motors in those products with brushless DC motors, which are more suited to precision motor control applications.