While there is much anticipation of high-end functions for sensors in automobiles, to aid self-parking and even autonomous vehicles, a panel of experts agreed it was likely to be the more mundane legal mandates, such as environmental pollution and safety, that would keep demand for automotive MEMS sensors climbing for the foreseeable future.
However, the panel, convened at the MEMS Executive Congress Europe held in Zurich in March, also highlighted the impact that a recently published standard, ISO26262, is going to have on makers of automotive MEMS. MEMS makers are going to have to implement more complex design procedures for devices if they wish to carry on selling in to the automotive supply chain, according to a panelist from automotive tier-1 supplier Continental.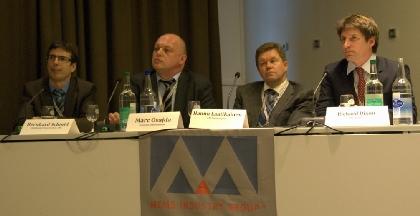 ISO26262 also applies more generally to silicon and software, although the role of MEMS sensors in a number of safety-critical systems makes the standard particularly relevant to MEMS components.
The general automotive MEMS scene was set by panelist Richard Dixon, MEMS analyst with market research firm IHS iSuppli. He said the automotive market had recovered well from the stall of 2008 to 2009. He said the market for automotive MEMS sensors had grown 28 percent in 2010, and, more surprisingly, by 15 percent in 2011 to a value of $2.2 billion. For the period 2010 to 2015, the industry is entering a faster growth phase with a CAGR of 10 percent to take the market to $3 billion in 2015, he added.
Dixon named the usual MEMS sensor suspects: pressure sensors in the powertrain and tire pressure monitoring system, accelerometers in the airbag safety system, and gyroscopes in electronic stability control (ESC) systems. He said that iSuppli has spotted 36 design slots for MEMS in the automobile, but that growth would come as more regions adopted mandates that demanded these slots be filled. In 2012, Japan is adopting an ESC mandate that will drive some growth while China is expected to require TPMS over the next three years.
Meanwhile, automobile purchasing worldwide is set to increase from 70 million cars in 2012 to 100 million cars in 2015. In terms of growth beyond that, it is likely to be sensors to monitor and help automotive companies cut down on emissions, Dixon said.