A new multicore processor portfolio could simplify the "consumerization" of the industrial market, enabling rich interfaces to be more easily integrated into products such as refrigerators, exercise equipment, patient monitors, and industrial automation systems.
Known as the Vybrid multi-processing architecture, the new technology combines a pair of ARM cores -- one for the control of a rich human-machine interface and another for real-time control of motors or industrial components. By incorporating two cores, the architecture is said to eliminate the need for engineers to use two separate processors.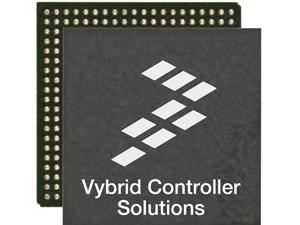 "With the two cores, the heavier-duty task can be assigned to one core while the lighter-duty can be assigned to the less powerful core," Tom Halfhill, senior analyst for The Linley Group, told us. "You might even be able to turn one core off while the other operates at full speed. And you can optimize power consumption that way."
The Vybrid architecture, introduced by Freescale Semiconductor at the DESIGN West show this week, could answer a growing market need. Increasingly, products ranging from motor-based industrial equipment to washing machines and dryers are incorporating capacitive touchscreens.
"When we looked at the industrial market, we noticed an 'iPhone-ization,' where more people were beginning to expect more intuitive human-machine interfaces," Sumant Subramanian, global product line manager for 32-bit industrial microprocessorss, told Design News. "We're seeing it in washing machines, vacuum cleaners, dryers, and refrigerators -- all of the developers are looking at intuitive user interfaces."
Subramanain said that Freescale has even seen the trend migrating into exercise equipment. "One customer was using a tablet for a user interface on a treadmill," he said. "They put the New York Marathon on the tablet and the application just took off."