Products with closed-loop embedded control could soon be simpler to design, thanks to a new level of peripheral integration on eight-bit microcontrollers (MCUs) that will be announced today at Design West.
The new, highly integrated MCUs will incorporate converters, op-amps, comparators, and other peripherals that could enable design engineers to simplify the control of motors, power supplies, battery chargers, and lighting systems. The devices are said to offer peripheral functionality that wasn't previously available in low-cost environments.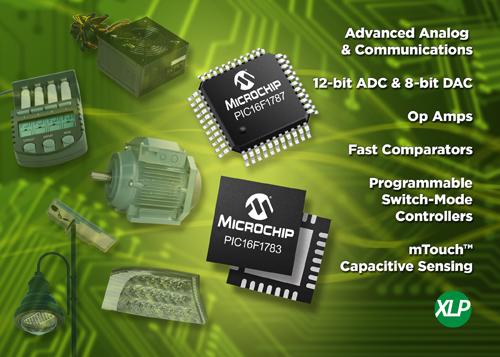 "This gives a level of integration that engineers haven't previously seen in eight-bit microcontrollers," said Greg Brown, product marketing manager for Microchip Technology Inc., which is introducing the products. "It will help simplify design and make it easier for engineers to create that new power supply or motor controller."
The new devices, part of Microchip's PIC16F178X family, pack on-chip 12-bit analog-to-digital converters, eight-bit digital-to-analog converters, operational amplifiers, and high-speed comparators, along with numerous interface peripherals. The devices also feature advanced pulsewidth modulation control via programmable switch mode controllers.
For design engineers, the new technology makes it easier to incorporate a combination of analog and digital control in closed-loop embedded systems. Microchip said the technology is targeted at charging systems for nickel-cadmium, lithium-ion, and nickel-metal hydride batteries, as well as brushed and brushless DC motors, switch-mode power supplies, and lighting systems. Control of lighting systems could be an especially strong area for the technology, since light-emitting diodes and fluorescent lamps will require electronics to drive their lighting elements.