An edge length of only 40mm for 1,600W
The compact CeramCool Box is made for homogeneous and efficient cooling of packing densities up to 100W/cm². With an edge length of just 40 x 40mm² and a height of only 16mm, it has a total cooling capacity of 1,600W. With an efficiency rating of 25 percent, this corresponds to 400W of optical power, or roughly 45,000 lumens with common high-power LEDs.
The remaining 1,200W must be efficiently dissipated as heat, which is a challenge that already begins with the heat transfer from the component to the carrier substrate. Power densities of this magnitude challenge conventional bonding techniques for die bonding. Even highly filled Ag conductive adhesives exhibit a thermal conductivity of little more than 1W/mK, which already results in a bottleneck for efficient cooling. Add variable adhesive layer thicknesses, and even the best cooling concept cannot compensate for the absolute and relative temperatures.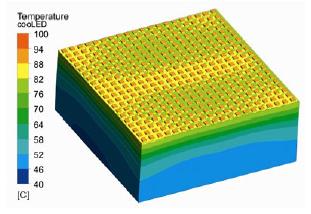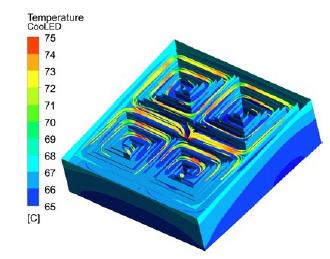 The Fraunhofer IZM Institute in Berlin approached the problem with the bottleneck using new soldering and sintering techniques. The lower thermal resistance of this metallic bond created an excellent thermal coupling with the metalized Alunit substrate. Researchers tested different combinations of LEDs, sintered metals, and the ceramic substrate to ensure dependable adhesion. In addition to the electric conductors, this requires that the soldering points and sintering pastes are placed directly on and bonded permanently with the high-performance ceramic heat sink without creating thermal barriers and without the risk of delamination (difference in thermal expansion coefficients). In this case, the chip can be bonded directly on the heat sink.
With production costs in mind, the researchers developed techniques for collective bonding that deliver a high degree of placement accuracy with considerably lower costs.
Ceramic heat sinks take on a key role in efficient cooling, because achieving the required temperatures is only possible when the base material exhibits high thermal conductivity with thermal coupling with the coolant but also ensures the spreading of heat to minimize temperature differences within the module. What's more, during the research project, CeramTec succeeded in achieving series extrusion of AlN ceramics with exceptional thermal conductivity. This process was the world's first of its kind at the time and enables rod-shaped bodies and tube systems made of ceramic with high thermal conductivity, mechanical stability, and dielectric strength.
The CeramCool Box has multiple parts and is produced using a dry pressing process followed by solid-state sintering. The shaping of the various prototype geometries takes place in the green stage using CNC machining, because this method allows for the fast manufacturing of low-cost test modules.