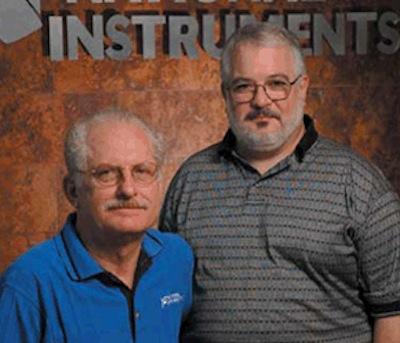 UBM Electronics will present its Lifetime Achievement Award 2012 at its ACE Awards event to two hi-tech executives who've changed the landscape of graphical design over the last quarter century. The honor will be spotlighted at a Tuesday night dinner during UBM's DESIGN West conference in San Jose, Calif.
The ACE award -- ACE is an acronym for annual creativity in electronics -- will recognize James Truchard, president, CEO, and co-founder of National Instruments, and Jeff Kodosky, cofounder and NI business and technology fellow. The ACE Award will recognize them as individuals whose career contributions have had a demonstrable impact on electronics technology advancements.
Kodosky co-founded National Instruments with Truchard and William Nowlin in 1976 while working at the University of Texas (UT) at Austin. The company has grown from a three-man team to a multinational organization with more than 6,000 employees, and has seen 31 years of growth in its 33-year history.
Kodosky invented LabVIEW, a graphical programming language that enables a graphical system design methodology. The language is updated yearly, with the latest version to be unveiled at this year's NIWeek, August 6 to 9.
Since the initial release in 1986, Kodosky has earned 68 patents associated with LabVIEW technology.
DESIGN West Conference Information:
DESIGN West comprises seven summits. The conference takes place March 26 to 29 at the McEnery Convention Center in San Jose, Calif.

DESIGN West main conference page
DESIGN West Keynotes
DESIGN West Expo Floor Theater
Embedded Systems Conference
Android summit
Black Hat
DesignMED
LEDs
Multicore
Sensors in Design

Related posts:
This story was originally posted by EE Times.