Using a device called Robo-Glove, auto workers may soon have an easier way to hold and squeeze objects on the assembly line.
Designed by engineers at General Motors, the glove uses a combination of actuators, sensors, and synthetic tendons to mimic the operation of a human hand while adding a measure of functional force. In addition to being employed in manufacturing, GM engineers say they foresee its use in a multitude of applications, from household repairs to complex humanoid robot operations.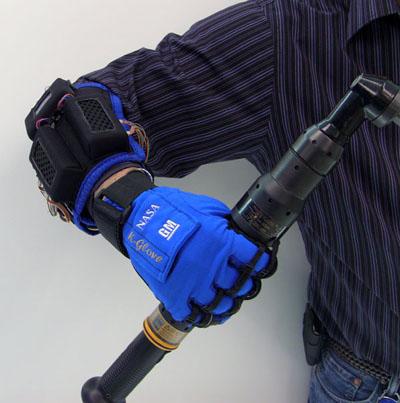 "We're looking at any type of task that requires grasping of some sort," Marty Linn, principal engineer of robotics at GM, told us. "Imagine a firefighter holding on to an icy hose during winter. This glove is for repetitive grasping or endurance-holding of an object."
To perform those kinds of functions, the Robo-Glove (also known as the Human Grasp Assist Device or K-Glove) incorporates four tiny servo motors, four gearheads, four ball screws, and a lithium-ion battery in a package worn on the forearm. When a servo motor rotates, the associated ball screw imparts a translating force, which tugs on a "tendon" to move one of the fingers. GM engineers employed a flexible, high-strength fiber called Vectran to mimic the characteristics of a human tendon and give the fingers lifelike qualities.
"The key for us has been to keep the package size small," Linn said. "We wanted to make sure that there's room for all the working elements down near the hand."