Using a device called Robo-Glove, auto workers may soon have an easier way to hold and squeeze objects on the assembly line.
Designed by engineers at General Motors, the glove uses a combination of actuators, sensors, and synthetic tendons to mimic the operation of a human hand while adding a measure of functional force. In addition to being employed in manufacturing, GM engineers say they foresee its use in a multitude of applications, from household repairs to complex humanoid robot operations.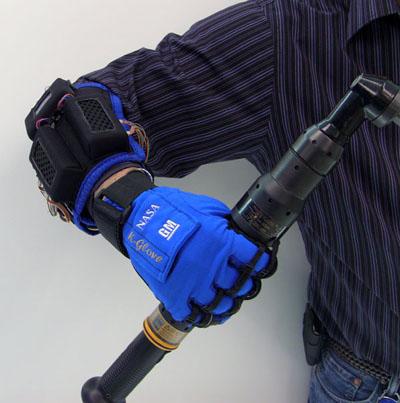 "We're looking at any type of task that requires grasping of some sort," Marty Linn, principal engineer of robotics at GM, told us. "Imagine a firefighter holding on to an icy hose during winter. This glove is for repetitive grasping or endurance-holding of an object."
To perform those kinds of functions, the Robo-Glove (also known as the Human Grasp Assist Device or K-Glove) incorporates four tiny servo motors, four gearheads, four ball screws, and a lithium-ion battery in a package worn on the forearm. When a servo motor rotates, the associated ball screw imparts a translating force, which tugs on a "tendon" to move one of the fingers. GM engineers employed a flexible, high-strength fiber called Vectran to mimic the characteristics of a human tendon and give the fingers lifelike qualities.
"The key for us has been to keep the package size small," Linn said. "We wanted to make sure that there's room for all the working elements down near the hand."




6
Nissan Motor Co. is taking the electric vehicle into new territory, rolling out an exotic-looking three-seat concept car that combines sustainability with race car-like performance.

1
3D visualization is helping us express information in a way that's more informative and easier to decipher.

1
A new service lets engineers and orthopedic surgeons design and 3D print highly accurate, patient-specific, orthopedic medical implants made of metal -- without owning a 3D printer. Using free, downloadable software, users can import ASCII and binary .STL files, design the implant, and send an encrypted design file to a third-party manufacturer.

4
Google is developing robots for manufacturing, assembly, and warehouse tasks.

21
When Dick Neubert discovered that his fireplace's heatilators lost heat when not in use, he created a gadget to rectify the situation.


LATEST ARCHIVED BROADCAST
For industrial control applications, or even a simple assembly line, that machine can go almost 24/7 without a break. But what happens when the task is a little more complex? That's where the "smart" machine would come in. The smart machine is one that has some simple (or complex in some cases) processing capability to be able to adapt to changing conditions. Such machines are suited for a host of applications, including automotive, aerospace, defense, medical, computers and electronics, telecommunications, consumer goods, and so on. This discussion will examine what's possible with smart machines, and what tradeoffs need to be made to implement such a solution.



Datasheets.com Parts Search
185 million searchable parts
(please enter a part number or hit search to begin)