A new type of catalyst made of iron nanoparticles enables the efficient conversion of non-food plant waste into the key components of materials such as plastics, medicines, and paint. The catalyst was developed by chemists at Utrecht University in The Netherlands, together with Dow Chemical's Benelux operation and Delft University of Technology.
Plant waste, consisting of wood-like biomass, such as branches, plant stalks, and pruning waste, is converted at high temperature into synthesis gas. Next, a one-step process flows the gas over the catalyst and produces lower olefins, which are building blocks that can be used to make plastics and other substances such as biopaints and biopharmaceuticals. "The products are exactly the same, only they are made of pruning waste instead of petroleum," said research team leader Utrecht University professor Krijn de Jong in a press release. Because they are chemically identical with petroleum-based products, the building blocks will not be biodegradable.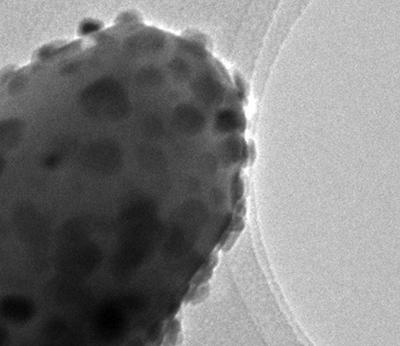 Other technologies for fabricating products of the same quality primarily from plant waste have existed for some time. But the process involved so many steps that these technologies were not efficient or economical enough to be used on a large scale, said de Jong. Utrecht University team members also include professor Harry Bitter and doctoral candidate Hirsa M. Torres Galvis in the university's inorganic chemistry and catalysis department.
Another catalyst used larger iron particles, typically 500 nanometers in diameter, which were clustered together. This process was not very efficient and produced large amounts of methane as a byproduct. The research team's success came in part from reducing the size of the iron nanoparticles to 20 nanometers in diameter and spacing them evenly.




7
When Dick Neubert discovered that his fireplace's heatilators lost heat when not in use, he created a gadget to rectify the situation.

6
Microsoft will quit supporting – and patching – Windows XP in April. This may be a cruel development for plants.

2
Injection molding can be a powerful tool for both prototyping and production. Here are some tips on how design engineers can get the most out of it.

3
Truchard will be presented the award at the 2014 Golden Mousetrap Awards ceremony during the co-located events Pacific Design & Manufacturing, MD&M West, WestPack, PLASTEC West, Electronics West, ATX West, and AeroCon.

15
In a bid to boost the viability of lithium-based electric car batteries, a team at Lawrence Berkeley National Laboratory has developed a chemistry that could possibly double an EV's driving range while cutting its battery cost in half.


LATEST ARCHIVED BROADCAST
For industrial control applications, or even a simple assembly line, that machine can go almost 24/7 without a break. But what happens when the task is a little more complex? That's where the "smart" machine would come in. The smart machine is one that has some simple (or complex in some cases) processing capability to be able to adapt to changing conditions. Such machines are suited for a host of applications, including automotive, aerospace, defense, medical, computers and electronics, telecommunications, consumer goods, and so on. This discussion will examine what's possible with smart machines, and what tradeoffs need to be made to implement such a solution.



Datasheets.com Parts Search
185 million searchable parts
(please enter a part number or hit search to begin)