Design Hardware & Software

Autodesk has put a modern face on the PLM category by officially rolling out its Autodesk PLM 360, which it touts as a next-generation cloud-based alternative to traditional platforms.
Autodesk officials on hand for the announcement tossed out every major new technology buzzword to describe the capabilities of their admittedly late-to-market PLM entry. Autodesk 360 PLM is a true multitenant cloud offering, they said, which means a single code base serves multiple installations, so the application is always up-to-date and users don't have to worry about upgrades or broken customizations.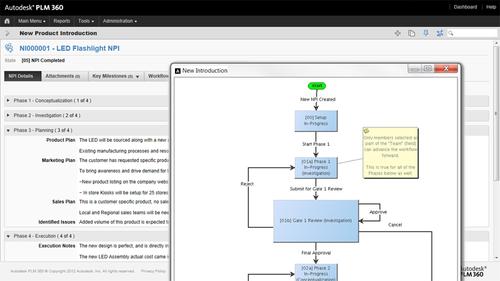 Since it employs a built-from-the-ground-up cloud architecture, Autodesk 360 PLM can be accessed via the Web from any type of device, be it a traditional engineering workstation or a mobile device in the field. Autodesk also talked up a social community around the new release, including crowdsourcing capabilities for sharing ideas and customizations, as well as an app store where customized business process templates can be accessed, many for free.
Where Autodesk is really blazing new ground is in its positioning of the cloud as the true enabler for breaking down barriers that have inhibited the adoption and value proposition of PLM.
"Our savior was the cloud -- it became real, apparent, and workable, and it led to the idea that we can now build something from the ground up that's dramatically different from the rest of the market, which is what we needed to have," Buzz Kross, Autodesk's senior vice president of design, lifecycle, and simulation, said during the press conference.




6
Nissan Motor Co. is taking the electric vehicle into new territory, rolling out an exotic-looking three-seat concept car that combines sustainability with race car-like performance.

1
3D visualization is helping us express information in a way that's more informative and easier to decipher.

1
A new service lets engineers and orthopedic surgeons design and 3D print highly accurate, patient-specific, orthopedic medical implants made of metal -- without owning a 3D printer. Using free, downloadable software, users can import ASCII and binary .STL files, design the implant, and send an encrypted design file to a third-party manufacturer.

4
Google is developing robots for manufacturing, assembly, and warehouse tasks.

21
When Dick Neubert discovered that his fireplace's heatilators lost heat when not in use, he created a gadget to rectify the situation.


LATEST ARCHIVED BROADCAST
For industrial control applications, or even a simple assembly line, that machine can go almost 24/7 without a break. But what happens when the task is a little more complex? That's where the "smart" machine would come in. The smart machine is one that has some simple (or complex in some cases) processing capability to be able to adapt to changing conditions. Such machines are suited for a host of applications, including automotive, aerospace, defense, medical, computers and electronics, telecommunications, consumer goods, and so on. This discussion will examine what's possible with smart machines, and what tradeoffs need to be made to implement such a solution.



Datasheets.com Parts Search
185 million searchable parts
(please enter a part number or hit search to begin)