A lightweight, flexible thermoelectric fabric called Power Felt could generate enough electricity from body heat to power a small electronic device, like an iPod, or iPhone.
The fabric, composed of carbon nanotube/polymer thin films, was developed by a team headed by researchers at Wake Forest University's Center for Nanotechnology and Molecular Materials. Power Felt generates an electrical charge from temperature differences, converting thermal to electrical energy. Examples include the difference between room temperature and body temperature, or between the temperature of a jacket liner next to the body and that of a jacket exterior exposed to cold air. Alternately, the fabric could be layered under roof shingles, line car seats, be wrapped around hot water pipes, or be integrated into a wound wrap to power medical monitors.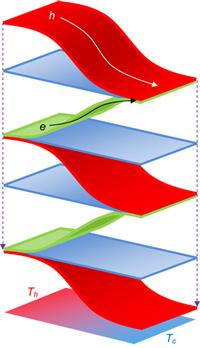 The fabric consists of a carbon nanotube/polymer composite thin film comprising multiple layers of multiwalled carbon nanotubes and polyvinylidene fluoride. The multiple layers are alternating p-type and n-type nanotube/polymer heterogeneous thin films with insulating polymer film layers between conduction layers. Layers are pressed together vertically and heated to about 425K to 450K to melt the polymer enough to bond the layers together and form a felt-like fabric. The resulting thermoelectric voltage results in increased power output as layers are added.
Generating electricity with thermoelectric material requires high efficiency levels. High-efficiency materials, usually made from bismuth telluride, have been used for CPU cooling and mobile refrigerators, but their cost (as much as $1,000 per kilogram) makes them too expensive for high-volume consumer applications. The researchers say Power Felt can be less expensive to manufacture, lighter, and easier to process than bismuth telluride, so it is more suitable for a number of applications, including portable electronics.




2
Some cars are more reliable than others, but even the vehicles at the bottom of this year's Consumer Reports reliability survey are vastly better than those of 20 years ago in the key areas of powertrain and hardware, experts said this week.
While risk management sounds like one activity, in order to be conducted effectively, it must be broken down into three sub-components: risk assessment, risk monitoring, and response planning.

2
Many of the materials in this slideshow are resins or elastomers, plus reinforced materials, styrenics, and PLA masterbatches. Applications range from automotive and aerospace to industrial, consumer electronics and wearables, consumer goods, medical and healthcare, as well as sporting goods, and materials for protecting food and beverages.
In a speech at China's National People's Congress in Beijing this month, Premier Li Keqiang laid out plans to revamp the country's manufacturing infrastructure with advanced technology.
While many larger companies are still reluctant to rely on wireless networks to transmit important information in industrial settings, there is an increasing acceptance rate of the newer, more robust wireless options that are now available.

Focus on Fundamentals consists of 45-minute on-line classes that cover a host of technologies. You learn without leaving the comfort of your desk. All classes are taught by subject-matter experts and all are archived. So if you can't attend live, attend at your convenience.