Bayer MaterialScience is marketing a flame-retardant medical-grade plastic for diagnostic imaging, a ductile plastic for drug delivery devices, and a material, Makrolon Rx1851 polycarbonate, that is being used along with wireless sensors in a device deployed in knee replacement surgery.
Bayer's Bayblend M303 FR is a non-reinforced, flame-retardant, amorphous, thermoplastic polymer blend for extrusion, blow molding, and thermoforming. It is the company's first flame-retardant polycarbonate and acrylonitrile butadiene styrene copolymer (PC/ABS) plastic for extrusion applications. The material is designed for diagnostic imaging equipment such as computed tomography, magnetic resonance imaging, and positron emission tomography devices, including scanners, workstations, and kiosks.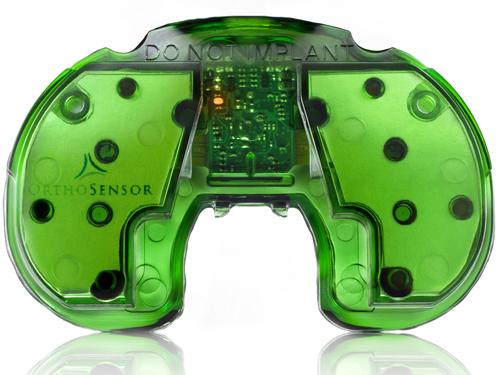 The M303 FR material can be used in devices that are used on the surface of a patient's body and contact undamaged, intact skin. It meets the ISO 10993-5 (Cytotoxicity) and ISO 10993-10 (Irritation and Sensitization) guidelines. It has good chemical and hydrolysis resistance, excellent melt strength for extrusion, and deep draw for thermoforming, according to Bayer.
The second material, the ductile Bayblend M750, is designed for manufacturers of drug delivery devices. The material meets FDA-modified ISO 10993, part 1 guidelines for biocompatibility, and it is supplied in pellet form for injection molding processing.
Both materials are part of the Bayblend family of PC/ABS medical-grade resins, which use different blends of Makrolon PC and ABS to produce various combinations of thermal and mechanical properties.
The third material is being used in an orthopedic device from OrthoSensor that gives surgeons quantitative intraoperative data on soft tissue balancing during total knee replacements. Previously, surgeons had to determine subjectively how much pressure to apply to a knee implant. The Knee Balancer uses sensors and wireless technology to give surgeons real-time evidenced-based data that they can use to optimize the positioning and balance of implants.
In choosing a material for this product, OrthoSensor required biocompatibility, strength, and easy release and lubricity, Bayer said. The Makrolon Rx1851 polycarbonate is a medical-grade resin compliant with FDA-modified ISO 10993, part 1 guidelines.
"Using a high quality, reliable material was of paramount importance to us," Erik Herrmann, director of product development for surgical balancing at OrthoSensor, said in a Bayer press release. "Both the performance of the material and the support provided by Bayer have gone above and beyond our expectations."
Related posts: