While the battery chemistries used to power single-use military and aerospace applications remained virtually unchanged for decades, technological advancements have pushed legacy batteries to their limit in terms of supporting advanced product designs for avionics, navigation systems, ordinance fuses, missile systems, GPS tracking and emergency/safety devices, shipboard, and oceanographic devices.
Recognizing that antiquated battery technologies would hold back new product development, the US Department of Defense identified the "critical need" for a new generation of high-power, long-life batteries for single-use applications. From this challenge, a new battery technology has emerged that represents a viable alternative to legacy battery technologies.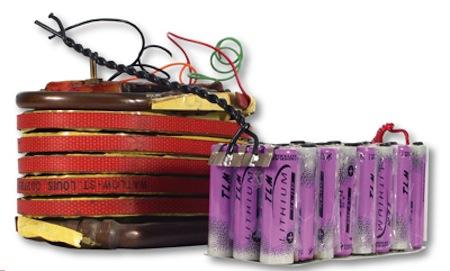 Reserve and thermal batteries store the electrolyte separately from other active ingredients, which keeps it inert until a pyrotechnic device initiates a chemical reaction. The most popular type of reserve battery is the thermal battery, which utilizes a metallic salt electrolyte that is inert and non-conducting in its solid state at ambient temperatures. A squib delivers a pyrotechnic charge that causes the electrolyte to become molten at 400C to 700C, thus energizing the cell to deliver short-term continuous current from a few watts to several kilowatts depending upon battery size and chemistry.
Advantages of thermal battery design include ruggedness, safety, reliability, and long shelf life. Limitations include an inability to test the cell without fully depleting it, delayed battery activation, and the need for insulation layers to keep the molten electrolyte at a steady temperature, and to protect surrounding components from heat-related damage.




3
Nissan Motor Co. is taking the electric vehicle into new territory, rolling out an exotic-looking three-seat concept car that combines sustainability with race car-like performance.

1
3D visualization is helping us express information in a way that's more informative and easier to decipher.

0
A new service lets engineers and orthopedic surgeons design and 3D print highly accurate, patient-specific, orthopedic medical implants made of metal -- without owning a 3D printer. Using free, downloadable software, users can import ASCII and binary .STL files, design the implant, and send an encrypted design file to a third-party manufacturer.

2
Google is developing robots for manufacturing, assembly, and warehouse tasks.

16
When Dick Neubert discovered that his fireplace's heatilators lost heat when not in use, he created a gadget to rectify the situation.


LATEST ARCHIVED BROADCAST
For industrial control applications, or even a simple assembly line, that machine can go almost 24/7 without a break. But what happens when the task is a little more complex? That's where the "smart" machine would come in. The smart machine is one that has some simple (or complex in some cases) processing capability to be able to adapt to changing conditions. Such machines are suited for a host of applications, including automotive, aerospace, defense, medical, computers and electronics, telecommunications, consumer goods, and so on. This discussion will examine what's possible with smart machines, and what tradeoffs need to be made to implement such a solution.



Datasheets.com Parts Search
185 million searchable parts
(please enter a part number or hit search to begin)