Eric Gamache, North America technical service manager for the technical polymers business unit at Arkema, said the crystalline structure of its biobased polyamide 11 is more organized than that of a petro-based polyamide 12, and a more compact structure gives it slightly better chemical resistance. Melt temperature is slightly higher, giving it a small edge in temperature resistance.
The polyamide 11, Rilsan, was developed in 1947 and began replacing steel and rubber in cars in the 1960s, Gamache said. It's used in under-the-hood powertrain applications like fuel lines, hydraulic and pneumatic pipes, airbrake systems, and oil and gas pipes and fittings, as well as similar applications in aircraft.
Marsha Craig, global director of the renewable materials group at DuPont, said it sees a strong, broad-based pull to use bioplastics across most markets it plays in, including automotive. OEMs in many consumer-based segments, such as consumer electronics, cellphones, PCs, and furniture, are also showing interest. "Sometimes consumer demand is causing this. In other cases, the leading OEM wants to project a green image. Sometimes the driver is regulatory, such as LEED" (Leadership in Energy and Environmental Design).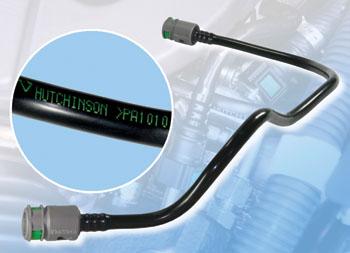 DuPont's engineering biopolymers span engineering and high-performance engineering grades. They are strong, stiff, durable, and resistant to high temperatures, and they are found in components of automobile engines or as the structural backbones of cellphones, computers, office machines, and solar cell frames. The company's renewably sourced engineering-grade materials are Hytrel RS thermoplastic elastomers, Sorona EP thermoplastic polymers, and Zytel RS long-chain nylons. Craig said DuPont's strategy is to offer bioplastics that are at least 20 percent renewably sourced and offer performance equal to or better than that of the 100 percent petro-based polymers they replace in a given class.
"My long-term vision is to convert our whole petro-based engineering plastics line to renewables where it's technically feasible and cost-effective," she said. "Some replacements will take longer than others, but we are driving this to happen and to extend it as fast as we can everywhere that is technologically and economically feasible."
Frank Diodato, segment director for durables and distribution at NatureWorks, told us that its Ingeo bioplastic appeals to consumer and industrial segments because of its tailorability and flexibility. In consumer electronics, it's blended with polycarbonates for PCs and business machines. In different formulations, Ingeo can be injection stretch blow molded, extrusion molded, and thermoformed.