Design Hardware & Software

A team of doctors in The Netherlands performed successful jaw transplant surgery recently that showcases just how far the power and potential of 3D printing has come as key asset in medical applications, particularly the design and development of custom prosthesis.
An 83-year-old woman suffering from a chronic bone infection received a lower jaw transplant of a 3D-printed jaw made out of titanium powder as opposed to undergoing reconstructive surgery, which the medical team deemed too risky because of her age. Using a 3D model of the patient's lower mandible, the medical team, in partnership with metal additive manufacturing provider LayerWise, constructed and 3D-printed a metal jaw implant structure that incorporates articulated joints and dedicated features, becoming one of the first complete patient-specific implants, according to officials.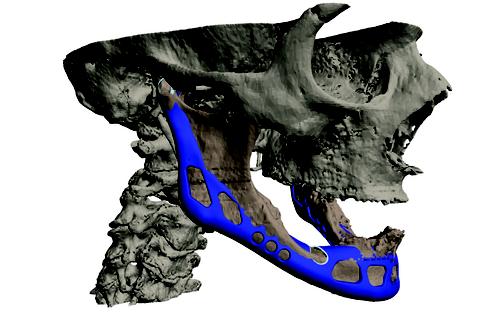 Additive manufacturing technology was a natural fit for this application because the process doesn't face any restrictions in terms of producing the complex lower jaw implant structure unlike other technologies, which could require multiple metalworking steps. In addition to LayerWise, the method was developed by the biomed research group at the University of Hasselt in collaboration with engineers from Xios Hogeschool, Xiloc Medical BV, and the University of Leuven. Maxillofacial surgeons from the Orbis Medisch Centrum Sittard-Geleen were also heavily involved.
Medical applications are one of the key areas where industry experts expect 3D printing technology to take off. Use of 3D printers and advanced 3D modeling software technology for producing dental structures and orthopedic prosthesis is becoming more commonplace, and there have been industry reports of 3D printers being used in making other body parts, including blood vessels, and growing new bones. There's even futuristic talk of replacing the metal powders commonly used in 3D printing with organic tissue and bone material, which would essentially function as the "ink" for the 3D printing process.




5
Nissan Motor Co. is taking the electric vehicle into new territory, rolling out an exotic-looking three-seat concept car that combines sustainability with race car-like performance.

1
3D visualization is helping us express information in a way that's more informative and easier to decipher.

1
A new service lets engineers and orthopedic surgeons design and 3D print highly accurate, patient-specific, orthopedic medical implants made of metal -- without owning a 3D printer. Using free, downloadable software, users can import ASCII and binary .STL files, design the implant, and send an encrypted design file to a third-party manufacturer.

4
Google is developing robots for manufacturing, assembly, and warehouse tasks.

21
When Dick Neubert discovered that his fireplace's heatilators lost heat when not in use, he created a gadget to rectify the situation.


LATEST ARCHIVED BROADCAST
For industrial control applications, or even a simple assembly line, that machine can go almost 24/7 without a break. But what happens when the task is a little more complex? That's where the "smart" machine would come in. The smart machine is one that has some simple (or complex in some cases) processing capability to be able to adapt to changing conditions. Such machines are suited for a host of applications, including automotive, aerospace, defense, medical, computers and electronics, telecommunications, consumer goods, and so on. This discussion will examine what's possible with smart machines, and what tradeoffs need to be made to implement such a solution.



Datasheets.com Parts Search
185 million searchable parts
(please enter a part number or hit search to begin)