An international consortium led by the Stanford University composites pioneer Dr. Stephen Tsai has developed a new type of carbon-fiber composite. The thin-ply, bi-angle, noncrimp fabric, which uses a nonwoven fabric architecture, delivers more than three times the tensile strength of conventional woven carbon-fiber fabrics and resin infusion methods.
The consortium includes Stanford's Department of Aeronautics and Astronautics, Chomarat Textiles Industries, Advaero Technologies, NASA Marshall Space Flight Center, the composite component manufacturer VX Aerospace, and the aerospace carbon-fiber and composite materials maker Hexcel. Materials developed based on this technology will target industries that need lightweight, high-strength structures, especially aerospace manufacturing.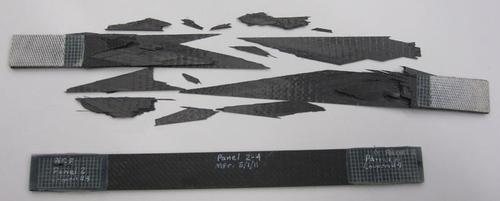 Greg Bowers, co-founder, president, and CEO of Advaero, told us his company has completed initial trials of the new composite. It is produced using Chomarat's newly developed 150 gsm bi-angle, noncrimp carbon fabric, which is infused with resin using Advaero's HVARTM (heated vacuum-assisted resin transfer molding) process. This process is more cost-effective than the energy-intensive high-pressure autoclave ovens conventionally used to produce carbon-fiber composites, Bowers says.
Dr. Ajit Kelkar, professor and chairman of nanoengineering at North Carolina A&T State University's Joint School of Nanoscience and Nanoengineering, co-invented HVARTM. "Typically, carbon-fiber composites for aerospace applications are very strong in one direction but weak in other directions," he told us. "To balance their strength, they have to be reinforced. That's why composites are manufactured with layers oriented in different directions stacked together. If you don't, the composites will warp and bend."




2
Nissan Motor Co. is taking the electric vehicle into new territory, rolling out an exotic-looking three-seat concept car that combines sustainability with race car-like performance.

1
3D visualization is helping us express information in a way that's more informative and easier to decipher.

0
A new service lets engineers and orthopedic surgeons design and 3D print highly accurate, patient-specific, orthopedic medical implants made of metal -- without owning a 3D printer. Using free, downloadable software, users can import ASCII and binary .STL files, design the implant, and send an encrypted design file to a third-party manufacturer.

2
Google is developing robots for manufacturing, assembly, and warehouse tasks.

15
When Dick Neubert discovered that his fireplace's heatilators lost heat when not in use, he created a gadget to rectify the situation.


LATEST ARCHIVED BROADCAST
For industrial control applications, or even a simple assembly line, that machine can go almost 24/7 without a break. But what happens when the task is a little more complex? That's where the "smart" machine would come in. The smart machine is one that has some simple (or complex in some cases) processing capability to be able to adapt to changing conditions. Such machines are suited for a host of applications, including automotive, aerospace, defense, medical, computers and electronics, telecommunications, consumer goods, and so on. This discussion will examine what's possible with smart machines, and what tradeoffs need to be made to implement such a solution.



Datasheets.com Parts Search
185 million searchable parts
(please enter a part number or hit search to begin)