The Raven II software that runs the robots is based on the Robot Operating System (ROS) open-source robotics code project. It provides a common framework of libraries and tools for several different kinds of robots, including service and research configurations.
Once they are installed at each campus, the robots will be networked together to allow data sharing and collaboration experiments. This will make it easier for researchers to collaborate in various ways, including sharing software and replicating experiments.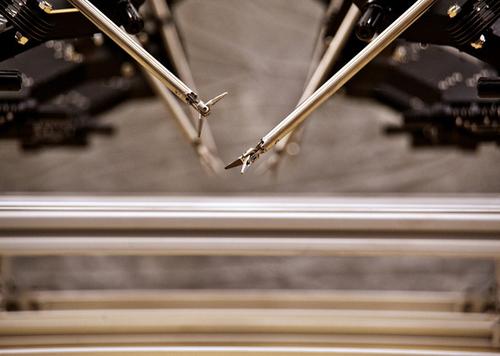 Each Raven II system includes a surgical robot with two robotic arms, a camera for viewing the operational field, and a surgeon-interface system for remote operation. The system is precise enough for use in research on advanced robotic surgery techniques, such as online telesurgery. The earlier Raven I, completed in 2005, was also used for this type of research at UW. The Raven II has more compact electronics and dexterous hands that can hold wristed surgical tools, similar to the newest commercial surgical robots. Like those models, a surgeon viewing a screen can guide instruments to perform a task such as suturing by looking through the Raven II's cameras.
Rosen and UCSC postdoctoral researcher Daniel Glozman have developed a Raven IV surgical robotics system with four robotic arms and two cameras. It is designed for collaboration between two surgeons working in separate locations, connected over the Internet.
Related posts: