The Raven II software that runs the robots is based on the Robot Operating System (ROS) open-source robotics code project. It provides a common framework of libraries and tools for several different kinds of robots, including service and research configurations.
Once they are installed at each campus, the robots will be networked together to allow data sharing and collaboration experiments. This will make it easier for researchers to collaborate in various ways, including sharing software and replicating experiments.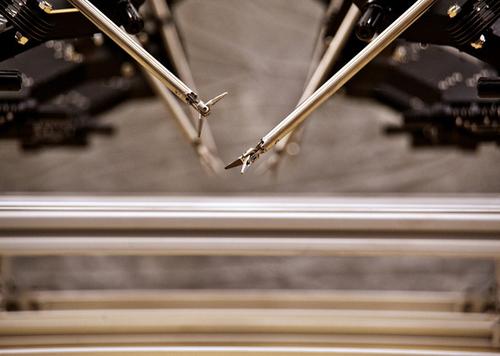 Each Raven II system includes a surgical robot with two robotic arms, a camera for viewing the operational field, and a surgeon-interface system for remote operation. The system is precise enough for use in research on advanced robotic surgery techniques, such as online telesurgery. The earlier Raven I, completed in 2005, was also used for this type of research at UW. The Raven II has more compact electronics and dexterous hands that can hold wristed surgical tools, similar to the newest commercial surgical robots. Like those models, a surgeon viewing a screen can guide instruments to perform a task such as suturing by looking through the Raven II's cameras.
Rosen and UCSC postdoctoral researcher Daniel Glozman have developed a Raven IV surgical robotics system with four robotic arms and two cameras. It is designed for collaboration between two surgeons working in separate locations, connected over the Internet.
Related posts:




3
Hyundai Motor Co. has launched production of a hydrogen fuel cell-powered crossover vehicle, with the intent of building and leasing 1,000 of them by the end of 2015.

0
GE is working on a new 3D printing method, known as cold spray, in which metal powders are sprayed from a nozzle at extremely high velocities on metal objects.
In an age of globalization and rapid changes through scientific progress, two of our societies' (and economies') main concerns are to satisfy the needs and wishes of the individual and to save precious resources. Cloud computing caters to both of these.
NASA's Robonauts are being developed for inter-planetary travel, and to take over for astronauts when the work becomes too dirty or dangerous.
New materials handling guidelines from the National Institute for Occupational Safety and Health give recommended engineering controls for nanoscale materials, which just keep proliferating.


LATEST ARCHIVED BROADCAST
For industrial control applications, or even a simple assembly line, that machine can go almost 24/7 without a break. But what happens when the task is a little more complex? That's where the "smart" machine would come in. The smart machine is one that has some simple (or complex in some cases) processing capability to be able to adapt to changing conditions. Such machines are suited for a host of applications, including automotive, aerospace, defense, medical, computers and electronics, telecommunications, consumer goods, and so on. This discussion will examine what's possible with smart machines, and what tradeoffs need to be made to implement such a solution.



Datasheets.com Parts Search
185 million searchable parts
(please enter a part number or hit search to begin)