A cleanroom-quality version of ABB Robotics' IRB 120 robot was designed to be a fast, compact robot with lower production costs for industries that require a minimum of environmental pollutants during manufacturing. In particular, it is targeted for the electronics, medical, and solar manufacturing industries.
The Cleanroom IRB 120 robot has been tested and certified to Cleanroom ISO 5 (Class 100) by the Fraunhofer Institute for Manufacturing Engineering and Automation IPA, a leading independent manufacturing research and analysis provider. The IRB 120 is ABB's smallest multipurpose six-axis industrial robot, weighing only 25kg (55 pounds). It has a standard payload of 3kg (6.6 pounds) and a vertical wrist payload of 4kg (8.8 pounds). Its reach is 580mm, and it can reach 112mm below its base. The model's best-in-class stroke is 411mm, and its repeatability of pose (RP) is 0.01mm.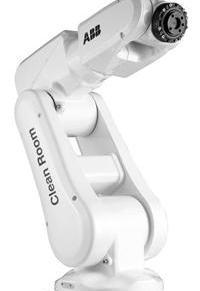 "The industries that require cleanroom manufacturing environments continue to grow, increasing the need for a fast and compact robot that meets stringent anti-contamination requirements," Joe Campbell, vice president of the robots and applications group at ABB, said in a press release on the new robot. "We feel the Cleanroom IRB 120 will allow our integrators to penetrate new markets with a cost-effective and reliable robot that generates high production outputs in return for a minimal investment."
Materials used in the components of the IRB 120 that were likely to generate particles were modified in the cleanroom version. This eliminates the possibility of contaminating the manufacturing area and the parts being processed there. The Cleanroom IRB 120 has unpainted stainless-steel mechanical stops, unpainted mounting holes, and special glue seals to avoid particle generation. It can also be easily cloth cleaned, due to a special four-layer paint clear coated with varnish.



Contributing editor Cabe Atwell developed a Raspberry Pi and Arduino-based remote network fish tank control for his goldfish, Goldie Fishwater.

1
Are they robots or androids? We're not exactly sure. Each talking, gesturing Geminoid looks exactly like a real individual, starting with their creator, professor Hiroshi Ishiguro of Osaka University in Japan.
Hybrid vehicle engineers may now have a way to do hardware-in-the-loop simulation testing, instead of physical dynamometer testing, on the electric motors that propel their cars.
NASA is developing Project Morpheus, a vehicle that can lift off and set itself down on planetary surfaces.

6
Nissan Motor Co. is taking the electric vehicle into new territory, rolling out an exotic-looking three-seat concept car that combines sustainability with race car-like performance.


LATEST ARCHIVED BROADCAST
For industrial control applications, or even a simple assembly line, that machine can go almost 24/7 without a break. But what happens when the task is a little more complex? That's where the "smart" machine would come in. The smart machine is one that has some simple (or complex in some cases) processing capability to be able to adapt to changing conditions. Such machines are suited for a host of applications, including automotive, aerospace, defense, medical, computers and electronics, telecommunications, consumer goods, and so on. This discussion will examine what's possible with smart machines, and what tradeoffs need to be made to implement such a solution.



Datasheets.com Parts Search
185 million searchable parts
(please enter a part number or hit search to begin)