A cleanroom-quality version of ABB Robotics' IRB 120 robot was designed to be a fast, compact robot with lower production costs for industries that require a minimum of environmental pollutants during manufacturing. In particular, it is targeted for the electronics, medical, and solar manufacturing industries.
The Cleanroom IRB 120 robot has been tested and certified to Cleanroom ISO 5 (Class 100) by the Fraunhofer Institute for Manufacturing Engineering and Automation IPA, a leading independent manufacturing research and analysis provider. The IRB 120 is ABB's smallest multipurpose six-axis industrial robot, weighing only 25kg (55 pounds). It has a standard payload of 3kg (6.6 pounds) and a vertical wrist payload of 4kg (8.8 pounds). Its reach is 580mm, and it can reach 112mm below its base. The model's best-in-class stroke is 411mm, and its repeatability of pose (RP) is 0.01mm.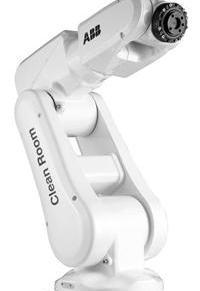 "The industries that require cleanroom manufacturing environments continue to grow, increasing the need for a fast and compact robot that meets stringent anti-contamination requirements," Joe Campbell, vice president of the robots and applications group at ABB, said in a press release on the new robot. "We feel the Cleanroom IRB 120 will allow our integrators to penetrate new markets with a cost-effective and reliable robot that generates high production outputs in return for a minimal investment."
Materials used in the components of the IRB 120 that were likely to generate particles were modified in the cleanroom version. This eliminates the possibility of contaminating the manufacturing area and the parts being processed there. The Cleanroom IRB 120 has unpainted stainless-steel mechanical stops, unpainted mounting holes, and special glue seals to avoid particle generation. It can also be easily cloth cleaned, due to a special four-layer paint clear coated with varnish.




6
Robots that walk have come a long way from simple barebones walking machines or pairs of legs without an upper body and head. Much of the research these days focuses on making more humanoid robots. But they are not all created equal.

1
The IEEE Computer Society has named the top 10 trends for 2014. You can expect the convergence of cloud computing and mobile devices, advances in health care data and devices, as well as privacy issues in social media to make the headlines. And 3D printing came out of nowhere to make a big splash.

1
Easy home automation comes with a new Kickstarter project, the smart power strip. It controls various AC outlets with a wireless controller and a smartphone app.

0
SUS Corp. offers aluminum frames that are designed for use in factories. The frames are used for workstations, assembly shelving, carts, and other factory and assembly support.

33
Amazon.com's proposed drone-based package delivery scheme is achievable, but it could face significant technical hurdles before reaching the marketplace.


LATEST ARCHIVED BROADCAST
For industrial control applications, or even a simple assembly line, that machine can go almost 24/7 without a break. But what happens when the task is a little more complex? That's where the "smart" machine would come in. The smart machine is one that has some simple (or complex in some cases) processing capability to be able to adapt to changing conditions. Such machines are suited for a host of applications, including automotive, aerospace, defense, medical, computers and electronics, telecommunications, consumer goods, and so on. This discussion will examine what's possible with smart machines, and what tradeoffs need to be made to implement such a solution.



Datasheets.com Parts Search
185 million searchable parts
(please enter a part number or hit search to begin)