It's one thing to create bio-based resins from food crop feedstocks. It's another to produce them using sugar cane trash and other plant waste to avoid competing with human food and animal feed crops. But what if you could just grow your biomaterials and plastic replacements, avoiding all the time- and resource-consuming steps in the polymer creation cycle? Ecovative has figured out how to do this by growing mushroom roots on plant trash, and it is expanding its operations by partnering with Sealed Air, the inventor of Bubble Wrap.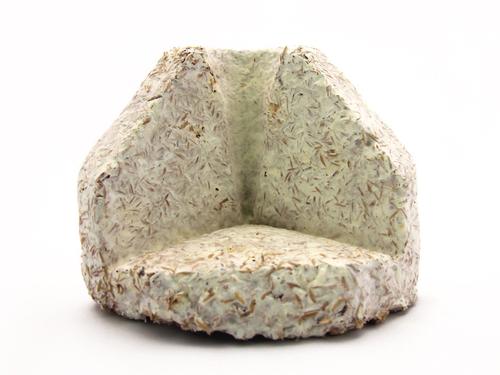 The two companies will work together to "accelerate the production, sales, and distribution of Ecovative's EcoCradle Mushroom Packaging," the companies said in a brief joint press release.
Ecovative's plastics are based on mycelium, or mushroom roots. The company bills them as alternatives to petrochemical-based materials, such as the extruded polystyrene foam, or Styrofoam, used for packaging heavy items during shipping.
The EcoCradle Mushroom Packaging material is grown in a process in which a fungal network of threadlike cells digests agricultural wastes, such as plant stalks and seed husks. The process binds the cells into a structural material like a self-assembling glue. No water, light, or fertilizer is required for growth, and the used material can be composted aerobically or anaerobically in consumers' backyards.
A blend of agricultural byproducts is cleaned and inoculated, or planted, with mycelium. This process does not involve spores. An automated process fills grow tray forms with the mixture. When the material has reached the desired shape and size, its growth is stopped through dehydration and heat treatment.




5
Nissan Motor Co. is taking the electric vehicle into new territory, rolling out an exotic-looking three-seat concept car that combines sustainability with race car-like performance.

1
3D visualization is helping us express information in a way that's more informative and easier to decipher.

1
A new service lets engineers and orthopedic surgeons design and 3D print highly accurate, patient-specific, orthopedic medical implants made of metal -- without owning a 3D printer. Using free, downloadable software, users can import ASCII and binary .STL files, design the implant, and send an encrypted design file to a third-party manufacturer.

4
Google is developing robots for manufacturing, assembly, and warehouse tasks.

21
When Dick Neubert discovered that his fireplace's heatilators lost heat when not in use, he created a gadget to rectify the situation.


LATEST ARCHIVED BROADCAST
For industrial control applications, or even a simple assembly line, that machine can go almost 24/7 without a break. But what happens when the task is a little more complex? That's where the "smart" machine would come in. The smart machine is one that has some simple (or complex in some cases) processing capability to be able to adapt to changing conditions. Such machines are suited for a host of applications, including automotive, aerospace, defense, medical, computers and electronics, telecommunications, consumer goods, and so on. This discussion will examine what's possible with smart machines, and what tradeoffs need to be made to implement such a solution.



Datasheets.com Parts Search
185 million searchable parts
(please enter a part number or hit search to begin)