4. Aluminum and Steel. These materials, in new formulations, will start showing up more in cars and even aircraft. In New BMW Line Features Aluminum, CFRP, we learn that BMW will include both aluminum and carbon FRPs in the new BMW i line of electric vehicles (EVs) for city driving. To cancel out the added weight of an EV's batteries, manufacturers have pushed back on materials makers to come up with strong and lightweight substances. The new line will kick off with a plug-in hybrid and a 100 percent electric-only model. Both have aluminum powertrains and a passenger cell made of carbon FRPs similar to those used in Boeing's 787 Dreamliner.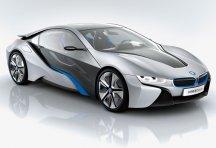 5. Plastics Recycling. Standards can help or hamper an industry, depending on how they are written, who writes them, who has to implement them, and how tough they are to put in place. Sometimes they do both. RoHS is a painful reminder of this truth. We're better off with it, but the transition was excruciating and produced several missteps. Biodegradable Plastics Standard to Bust Landfill Waste describes an effort to find a usable standard for gauging how fast certain plastics biodegrade under certain circumstances. Looks like it should hurt a lot less than RoHS.
Further reading:




1
Contributing editor Cabe Atwell developed a Raspberry Pi and Arduino-based remote network fish tank control for his goldfish, Goldie Fishwater.

4
Are they robots or androids? We're not exactly sure. Each talking, gesturing Geminoid looks exactly like a real individual, starting with their creator, professor Hiroshi Ishiguro of Osaka University in Japan.

1
Hybrid vehicle engineers may now have a way to do hardware-in-the-loop simulation testing, instead of physical dynamometer testing, on the electric motors that propel their cars.

6
NASA is developing Project Morpheus, a vehicle that can lift off and set itself down on planetary surfaces.

19
Nissan Motor Co. is taking the electric vehicle into new territory, rolling out an exotic-looking three-seat concept car that combines sustainability with race car-like performance.


LATEST ARCHIVED BROADCAST
For industrial control applications, or even a simple assembly line, that machine can go almost 24/7 without a break. But what happens when the task is a little more complex? That's where the "smart" machine would come in. The smart machine is one that has some simple (or complex in some cases) processing capability to be able to adapt to changing conditions. Such machines are suited for a host of applications, including automotive, aerospace, defense, medical, computers and electronics, telecommunications, consumer goods, and so on. This discussion will examine what's possible with smart machines, and what tradeoffs need to be made to implement such a solution.



Datasheets.com Parts Search
185 million searchable parts
(please enter a part number or hit search to begin)