The five most important materials trends of this coming year, like the top five for 2011, will enable volume manufacturing. They are concerned mostly with new, alternative materials or processes, along with developments in current ones. Once again, the materials or processes are those likely to prompt high growth.
1. Additive Manufacturing (AM). The most important developments will likely involve new materials. One will be the static-dissipative ABS described in Stratasys Develops Static-Dissipative ABS. In addition to rapid prototypes and low-volume production components, AM can create custom jigs and manufacturing fixtures, such as those for electronics manufacturing. A big problem has been the static electricity produced by most thermoplastics. The Stratasys ABS-ESD7 material, used with the company's Fortus Fused Deposition Modeling machines, prevents static electricity buildup and eliminates buildup of particulates from dust and powders. Today much of the electronics market consists of consumer devices, so once a component or material becomes part of this manufacturing flow, it's practically assured a high-volume future. Other AM materials will likely include biocompatibles for medical and dental applications and stronger, high-performance formulations for low-volume aerospace and automotive production.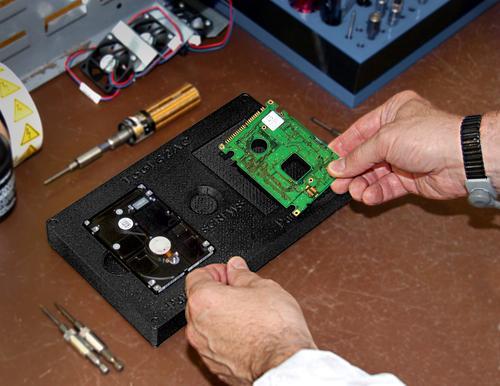 2. Plastics. The most significant breakthroughs will be thermoplastics that are good enough for automotive uses. That means high enough performance (whether structural or not, interior or exterior), low enough cost, and the ability to lend itself to high-volume automated manufacturing. Finally We Get Some Truth on Plastic Body Panels discusses the search for engineering-grade thermoplastics good enough in all these senses for automotive body panels, starting with fiberglass, one of the best known fiber-reinforced plastics. FRP manufacturing is a slow process, and to date it's been too slow for high-volume, mainstream car production. Other problems have included the higher coefficients of thermal expansion for thermoplastics than for steel, which make it difficult to design body panels (and cars) with clean lines. The thermoplastic manufacturer that solves these problems will be an Arthur pulling the sword from the stone for the automotive industry.

3. Automotive Composites. Composite manufacturing has suffered from laydown speeds too slow for automated production. Major changes here will include things such as Teijin's thermoplastic molding technology, which speeds up carbon FRP manufacturing by 500 percent. Composite Processing Speeds Up discusses this and other technologies Teijin has developed for welding thermoplastic carbon FRP parts together and bonding them with other materials, increasing throughput in automotive assembly. Teijin intends to develop mass production applications for carbon FRPs in other industries requiring high amounts of structural strength, such as machine and industrial tools.




4
Using almost 200 light-emitting diodes in the front and back of the new 2014 CTS, Cadillac designers are showing how LEDs can change the character of a vehicle.

1
Carbon fiber composites are being used in a satellite fuel tank designed to burn up on re-entry.

3
One of the university-level research efforts to improve the composition of lithium-ion batteries through nanotechnology has gone commercial.

1
Yin-Mei Li of the University of Science and Technology of China developed a way to manipulate blood cells using lasers.

20
We looked at a number of sources to determine this year's greenest cars, from KBB to automotive trade magazines to environmental organizations. These 14 cars emerged as being great at either stretching fuel or reducing carbon footprint.


A quick look into the merger of two powerhouse 3D printing OEMs and the new leader in rapid prototyping solutions, Stratasys. The industrial revolution is now led by 3D printing and engineers are given the opportunity to fully maximize their design capabilities, reduce their time-to-market and functionally test prototypes cheaper, faster and easier. Bruce Bradshaw, Director of Marketing in North America, will explore the large product offering and variety of materials that will help CAD designers articulate their product design with actual, physical prototypes. This broadcast will dive deep into technical information including application specific stories from real world customers and their experiences with 3D printing. 3D Printing is




Datasheets.com Parts Search
185 million searchable parts
(please enter a part number or hit search to begin)