An accelerometer is a device that can be used to measure acceleration in one, two, or three orthogonal axes. It is typically used to measure in-plane velocity and position, inclination, tilt, or orientation in two or three dimensions with respect to the acceleration of gravity, and to measure vibration and shock. It works by using a proof mass to detect motion and gravity. This proof mass can be a mechanical structure or heated gas.
The most popular today are of the micro-machined MEMS variety and largely consist of two basic types: those that work on the capacitive approach and ones that work on the heated-gas principle. These two types constitute the vast majority of MEMS accelerometers on the market.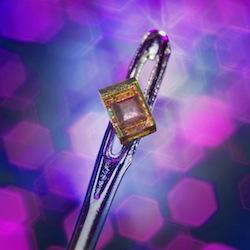 There are some other micro-machined types, as well, but these are used in specialized applications and are not generally suited for low-cost mass-market applications. These include piezo-resistive, piezo-electric, and strain-gauge accelerometers.
Capacitance-type accelerometers account for a large number of accelerometer applications, but gas-heated types provided by MEMSIC are beginning to make in-roads in consumer electronics, toys, automotive, industrial, home appliances, portable hand tools, and military and aerospace markets. Depending on the application, there are many advantages to using thermal MEMS acceleration versus capacitance types.
The capacitance approach is more suitable for applications requiring higher bandwidth. However, all capacitive sensors intrinsically have resonance from its mechanical structure resulting in unwanted ringing effect, which disturbs the normal sensing mechanism. Such effects have been a major issue in many sensitive applications such as automotive electronic stability control (ESC). For this reason, the heated-air sensor which has its natural roll off bandwidth from the sensor itself is better suited for ESC and rollover automotive applications, as well as for many consumer electronics applications which require inclination and human motion information.