Inductive eddy current position/displacement sensors require an electrically conductive target. The target does not have to be grounded, and in general, the more electrically conductive it is, the better the overall performance will be.
Materials that have been successful targets for eddy current sensors vary in resistance from 1.59µOhm-cm for silver to 127µOhm-cm for Inconel. Even graphite at 1,050µOhm-cm has been used for a target.
Magnetic/nonmagnetic distinction
Eddy current sensors utilize a balance bridge circuit. The balance of the bridge circuit will vary with sensor-target distance. It will also vary with target material, and the biggest variable is whether the target is magnetic or nonmagnetic.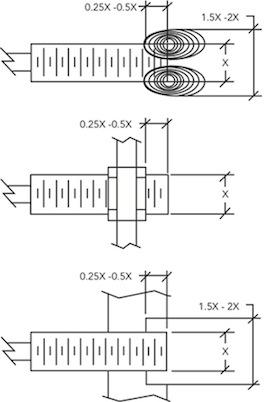 As they pertain to eddy current position sensors, all conductive materials can be put into two groups: magnetic (magnetic permeability >1), and non-magnetic (magnetic permeability =1). Note that for eddy current sensors, permeability of up to 1.1 is still considered nonmagnetic.
A small-diameter sensor (<0.5 inch) set up for a magnetic target will perform poorly, if at all, with a nonmagnetic target, and vice versa. In most cases, electronic bridge components must be changed to convert a system set up for magnetic targets to be used with nonmagnetic targets. Large-diameter sensors (>0.5 inch) typically need only to be recalibrated to the new target material. It is best to check with the manufacturer's applications engineering group or service group before considering a system with a target material other than what was originally specified.